AAM Delivers Eco-Tour Catamaran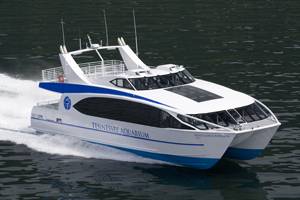 All American Marine, Inc. recently launched a high speed vessel that has the potential to become the newest icon in After several years of planning and preparation, the Tennessee Aquarium's efforts to procure a new tour boat came to fruition when they signed a contract with All American Marine in 2007. The River Gorge Explorer is now complete and began operations during the summer season.
The Tennessee Aquarium is located along the banks of the Tennessee River in and is a major attraction, featuring an IMAX theatre, fresh and saltwater aquarium exhibits, and river tours. The Aquarium's new 65' Teknicraft catamaran will comfortably seat 70 passengers and will whisk them through the Tennessee Gorge at speeds topping 50 mph. The gorge is home to a vast variety of plants and animals and the topography itself has been referred to as "'s ." The new 90 minute cruise will provide passengers with an incredible view and encounter of the gorge's natural beauty along the 24 mile route up and down the river. The vessel was designed around providing each passenger with the best "gorge" experience possible.
Inside, the vessel features angled Beurteaux seating so each passenger can easily see out the side windows or through the overhead sky panes. The interior is furnished with LCD monitors located throughout the cabin and will be used to share information and history of the gorge. Each cruise will be hosted by an onboard naturalist that will share various points of interest. An onboard concession kiosk has been crafted to provide guests with refreshments during their tour. Views of the gorge can also be enjoyed from the aft deck or the upper observation deck with 360 degree unobstructed viewing potential.
The 65 x 23.5 ft. vessel is a hydrofoil-assisted aluminum catamaran built upon the signature Teknicraft Design hull shape and constructed according to USCG subchapter-T requirements. The catamaran hull is manufactured with marine grade aluminum alloys and is extremely stable, smooth riding, and helps ensure safety when traveling at high speeds. The River Gorge Explorer can travel at high speeds given its propulsion system and integrated hydrofoil system. The lifting effect produced by the Teknicraft hydrofoil and signature hull shape causes the vessel to draft less than a foot of water. The minimal draft reduces resistance from the water and enhances both speed and fuel efficiency. The hydrofoil system helps to displace approximately one-third of the vessel's overall weight, thereby utilizing one-third less horsepower and one-third less fuel. While sky high fuel prices prohibit most vessels from traveling at higher speeds, the great fuel efficiency of Teknicraft catamarans allows operators to keep the throttles pushed forward. Power for the craft is supplied by four C-18 ACERT engines with 875 bhp at 2200 rpm and propulsion is supplied by four Hamilton Jet HJ 403 water jets.