Aberdeen, Scotland, Subsea Firm, Jee, Double Staff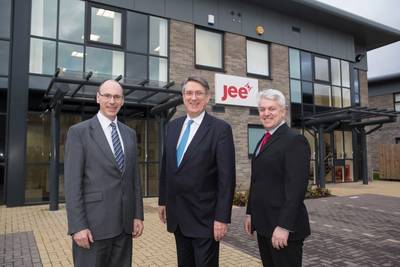 Independent subsea engineering & training company Jee Ltd announce the expansion of its Aberdeen office as part of their vision for strategic growth, with the potential of increasing staff numbers by 110% in Aberdeen city and Shire.
Jee explain that the new 'Subsea Corridor' premises are more than double the size of the previous Westhill office, with the capacity for 60 staff and can provide project office support for operator or contractor personnel.
Head of the Aberdeen office, Dr Jonathan Lindsay, said: "Having outgrown our previous office, moving to these new premises will enable Jee to increase staff numbers 110% in Scotland.

"Jee moved away from being a niche pipeline engineering consultancy some time ago to become a fully integrated service provider. Aberdeen, as a subsea centre of excellence, has become the hub of this business activity, from which we market our subsea engineering expertise, as we increasingly win engineering projects around the globe."

Jee is an independent subsea engineering and training company with offices in Aberdeen, London and Tonbridge. As the company has grown, its capabilities have increased to become a leading provider of integrated subsea services, spanning the whole life-of-field including SURF, structures, controls, materials, installation, ILI, integrity management and decommissioning.

The team at Jee was responsible for building ISO standard 12747-1 for 'Lifetime Extension of Pipelines'. To date, Jee claim that its lifetime extension projects in the North Sea have extended production life in excess of 253 years, which equates to an approximate commercial value in excess of £114 billions of pounds saved by operators, as a result of their work.