ACB Launches Line of Law Enforcement Vessels (LEV)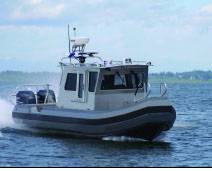 Just as ACB has done for agencies such as the Department of Homeland Security, U.S. Marine Corps, U.S. Navy, U.S. Coast Guard and many other customers requiring safety critical applications, we used our experience, technology, and engineering expertise to build a superior line of vessel that will change the paradigm in the maritime protection industry. The new LEVs are available with multiple engine configurations in 23 ft., 26 ft. or 30 ft. - in a full cabin or center console model.
The responsive 50+ mph vessels are single operator friendly and offer mission critical safety features such as 360 degree unobstructed visibility, strategically placed lighting designed to eliminate night blinding, integrated dry storage lockers, dedicated Mobile Data Link System storage, and an air/foam hybrid fendering system.
The first two LEVs were recently delivered to the Port of Miami/Dade, FL – purchased with funding from the Department of Homeland Security. These vessels will be operated by marine patrol officers of the Florida Wildlife Conservation Commission to provide marine security 24/7 for the port. The Florida Wildlife Conservation Commission is the second largest maritime law enforcement organization in the world. The boats will protect cruise ships, freightliners and all other traffic in one of the busiest ports in the world, giving ACB worldwide visibility.