Build And Repair Work Accelerates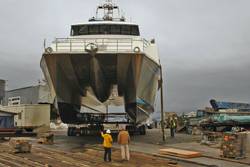 All U.S. Coasts enjoying upswing in business.

For many U.S. builders, last year closed on a happier note than 2010 – when the BP spill, offshore drilling ban and weak U.S. and global economies hurt business. In 2011, new orders for vessels for the oil industry and for the U.S. and foreign governments promised to keep a number of builders busy in 2012. A need to comply with new federal regulations created work, and repair activity grew. The upshot is that coastal economies are getting a needed boost. But some companies find themselves with more customers than they can immediately handle.

Paul Candies, President and CEO of Otto Candies in Des Allemands, La., said "Interest in new construction for large, platform supply vessels seems to be considerable now. Following the end of the moratorium last year, drill rigs are coming back to the Gulf, oil-and-gas lease sales have resumed, and people are getting back to work in anticipation of more drilling."

At the company's shipyard in Houma, LA, Candies added, "We have two inspection, maintenance and repair vessels under construction, scheduled for 2012 delivery and under contract to Petrobras in Brazil. We also have three, large 285-to300-foot platform supply vessels under construction for 2012-2013 delivery, and they'll go to work for oil companies in the Gulf. Because we build for ourselves and stay as close to schedule as possible, we don't have backlogs at our yard."
More Good News

Bollinger Shipyards in Lockport, La. is similarly busy with work for the government and other clients. In September, the Coast Guard awarded a $179.7 million contract option to Bollinger to produce four Sentinel-class, fast-response cutters to be delivered in 2014. That brought the total number of FRC's under contract with Bollinger to twelve, valued at $597 million. If all options are exercised, the company's current FRC contract for up to 34 cutters will be worth $1.5 billion.

Separately, in a new $720 million build program announced in November, Hornbeck Offshore Services plans to construct sixteen, 300-class offshore supply vessels, and has contracted eight of them to VT Halter Marine in Pascagoula, and eight to Eastern Shipbuilding Group in Panama City, FL, with options to build more. Meanwhile, in Tampa, RiverHawk Fast Sea Frames has been building naval vessels for Iraq and one for Lebanon.
Bollinger Stays Diversified

Bollinger has a backlog spread out between government and commercial work, said Robert Socha, the company's Executive Vice President for Sales and Marketing. "We continue to see our new construction backlog increasing, with minimal, available keel space at this time," he said. "Our backlog consists of Sentinel Class, fast-response cutters for the Coast Guard; ocean-class tugs for Crowley; sludge ships for the City of New York; a 55,000-barrel, Oil Pollution Act of 1990-compliant, offshore tank barge for Bouchard Transportation; and a Terrebonne Levee District flood gate."

"We continue to evaluate incoming opportunities for platform supply vessels, tugs, specialty vessels, barges for offshore and inland operations, as well as multi-purpose support vessels, to fill niche opportunities at Bollinger," Socha said. "Inquiries are coming from both domestic and international customers." Bollinger is, in fact, turning down some work.

"Since mid-November 2011 – with the letting of drilling permits – our nine repair yards have seen an uptick in activity and utilization for our 32 dry-docks and services such as machining, armature, propeller and fabrication," Socha said. Bollinger continues to position its drydock assets to better serve customers. "We're evaluating our present shipyards for domestic and foreign customers, along with market needs for further growth and drydock tonnage requirements."
Hornbeck OSVs: by VT Halter And Eastern Shipbuilding

In its third quarter ended in September, Hornbeck reported a net loss but also pointed to "recently improved market conditions" for the offshore industry. Under Hornbeck's new-build plan, VT Halter Marine will produce eight vessels, based on a "Super 320" design that it developed for Hornbeck. Those boats will have 6,200 long tons of deadweight capacity, 20,900 barrels of liquid mud-carrying capability, 11,863 square feet of deck area and firefighting abilities. Halter's design addresses the environment with double-hulls that reduces fuel-storage hazards, along with propulsion machinery that meets the U.S. EPA's Tier 3 rules for stack emissions.

The eight OSVs to be built for Hornbeck by Eastern Shipbuilding include four boats based on an STX Marine SV 300 design and four based on an STX Marine SV 310 blueprints. STX Marine, with offices in Houston and Vancouver, provided the designs, which include over 20,000 barrels of liquid mud-carrying capacity and fire-fighting abilities. The SV 300s will be built to handle 5,500 long tons of deadweight and will have 10,976 square feet of deck space; the SV 310s can handle 6,144 long tons of deadweight and will contain 11,536 square feet of deck space. STX designs meet the same environmental standards as VT Halter's Super 320s, and will also carry the American Bureau of Shipping's ENVIRO notation, signifying certain "green" characteristics.
RiverHawk Fast Sea Frames Builds For Foreign Navies

On Florida's west coast, RiverHawk Fast Sea Frames remains busy with U.S. Foreign Military Sales or FMS contracts. Jacob Shuford, RiverHawk's Development Director, said "our offshore support vessels One and Two are scheduled to be delivered to the U.S. Navy in March and June, respectively, and both should be delivered to the Iraqi Navy in third-quarter 2012. They are 60 meters long, 11.2 meters in breadth, with a design draft of 3.9 meters." The vessels are being built under a contract administered by the U.S. Naval Sea Systems Command. RiverHawk is the prime contractor, with Gulf Island Marine Fabricators in Houma subcontracted to make the vessels' steel hulls and aluminum deckhouses and to do outfitting. The OSVs will be equipped with helicopter decks, fast attack boats and guns.

Meanwhile, RiverHawk's $29 million Advanced Multimission Platform--a 43.5-meter, coastal-security craft, built for the Lebanese Navy under the FMS program--is scheduled for launch in Tampa in January, with a late-May delivery to the U.S. Navy. Shuford explains, "The hull, made of epoxy resin, was fabricated by VectorWorks Marine facilities in Titusville, Florida, and transited by canal to RiverHawk's yard in Tampa for rigging in of the engineering, mechanical and electrical systems." The decks and superstructure were fabricated in RiverHawk's Tampa yard. A retired U.S. Navy Rear Admiral, Shuford adds, "The AMP is designed from the keel up to be rapidly and affordably configured as a function of evolving technology and mission requirements."
Catamaran Production Brisk At One West Coast Firm

West Coast firms are also bustling. Joe Hudspeth, Business Development Manager at All American Marine, Inc. in Bellingham, WA, said "AAM is enjoying a full yard and has backlogged work." Orders for new aluminum, catamaran survey vessels will continue to keep the company humming in 2012. "In January, AAM plans to deliver a new 134-feet multi-mission, survey catamaran for Lafayette, Louisiana-based, C&C Technologies," Hudspeth said. A 45-feet survey catamaran will be completed in the spring for Middlebury College in Vermont. AAM recently started work on a backlogged order for a 65-feet, dive-and-survey catamaran for delivery this summer to the Los Angeles Port Police in California. AAM also plans to soon begin construction on a new high-speed, aluminum foil-assisted survey catamaran for the U.S. Army Corps of Engineers' Florida District.


Two Concerns: Skilled Labor and New Regulations

Labor constraints, mainly on the U.S. Gulf, are a worry as firms become busier. "Vessel builders along the Gulf continue to face a shortage of skilled labor," Paul Candies said. "We have an ongoing training program in our yard, and we hire people and apprentice them. But we'd like to see local, educational institutions offer more training for our industry." Not everyone wants to be a doctor or a lawyer, he said.

New federal regulations, tougher EPA standards, added safety and security requirements and more stringent towing-vessel inspections are a challenge, but complying with them creates work that some builders welcome. "All indications are that 2012 will be a busy year for U.S. regulatory dockings and inspections," Bollinger's Socha said. "While we anticipate a first-quarter 2012 seasonal slowdown in repairs and conversions, we find that customers are looking to fulfill U.S. regulatory requirements sooner than later." That should keep phones ringing with new work this year, contends Socha.
Proactive Operators = Continued Business for U.S. Yards

David Barousse, business development director at Fleet Operators, Inc., in Morgan City, La., said "it seems that oil and gas companies, as well as regulators, now have a handle on the post-moratorium, permitting process." Companies are trying to stay in the good graces of the federal government by proactively meeting new and existing regulations, he said. "The deep water market is slowly taking off again, with big expectations for 2012," Barousse said. "Overall, things are looking positive for work in the Gulf of Mexico for the foreseeable future." And that should make the start of 2012 look much brighter for a shipyard industry which started the previous year under much cloudier circumstances.

This article was taken from the January 2012 print edition of MarineNews magazine.
Susan Buchanan is a New Orleans-based business writer, specializing in energy, maritime matters, agriculture, the environment and construction. She holds a master's degree from Cornell University in agricultural economics and an undergraduate degree from the University of Pennsylvania.