Port of New Orleans Leader Accentuates Positives in Annual Address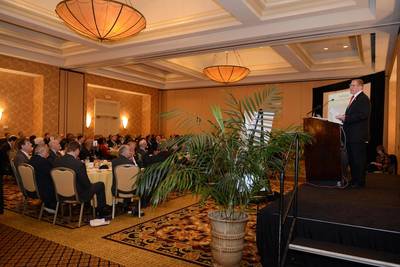 Port of New Orleans President and CEO Gary LaGrange cited numerous Port and industry-wide accomplishments, while challenging local business leaders to think big and act as ambassadors for the maritime community during today's 27th Annual State of the Port Address hosted by the International Freight Forwarders and Customs Brokers Association of New Orleans at the Marriott Convention Center. Exerpts from the address follow:
LaGrange ticked through a series of best rankings – most notably the No. 1 logistics hub in the nation by Business Facilities Magazine and Forbes Magazine's top "Brain Magnet." As a result of improved business climates and intermodal connectivity, LaGrange cited the vast investments being made by energy, chemical, and steel companies throughout Louisiana. New and expanded plants and exporters will spur cargo in the coming years.

Total Breakbulk volume for fiscal year 2013 was 2.78 million tons, up 1.34 percent compared to the previous year. With significant investments in oil and gas infrastructure in North America, as well as the $70 billion of announced investments since 2012 in Louisiana, the Port of New Orleans is well positioned for growth in the breakbulk market, LaGrange said. As evidence, the first six months of 2013 has already shown a 500 percent increase in oil field-related equipment.

In the container market, the increase in export cargo has been a driving growth force. The Port has benefitted from the U.S. Gulf industrial rebirth which has given many chemical companies a cost-competitive advantage. As a result, chemical volumes tripled over the last five years. In 2012, the Port handled 2 million tons of chemicals, and the first six months of 2013 showed a 35 percent increase over the same time frame in 2012.

While the export cargo growth at the Port captured the attention of industry leaders and even President Obama, the Port also realized significant increases in inbound containerized cargo. Shippers and container carriers are capitalizing more and more on the 12-hour rail connection to and from Memphis for both import and export cargoes. Instead of moving via East Coast ports Port, officials are seeing this cargo slowly begin to shift.

The Port's cruise business continues to break records, as well. In 2012, the Port handled 977,703 passengers and is on pace to break that mark in 2013. A report by Cruise Line International Association, determined cruise spending in Louisiana rose 42 percent in one year to top $399 million, generating 7,548 jobs and ranking New Orleans the sixth largest cruise port in the nation.

Looking ahead, LaGrange touted major projects the entire maritime community must support.

"We must find the political will to support vital investments in Port infrastructure in Louisiana," LaGrange said. "The Port has $66 million in Capital Outlay requests this year alone."

Also, the ultimate deepening of the Mississippi River is vital to all commerce on the Lower Mississippi River, he said. A recent report by economist Dr. Tim Ryan determined a 50-foot channel for the Lower Mississippi River would create $11.49 billion in U.S. production, generate 17,000 new jobs and mean $849 million in increased income for American workers.