USNS Brunswick Completes Acceptance Trials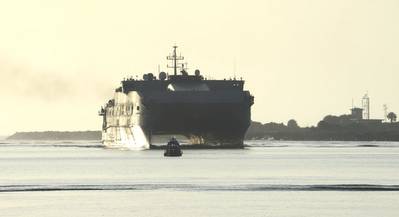 Shipbuilder Austal Limited announced that Expeditionary Fast Transport 6 (EPF 6) USNS Brunswick, formerly known as Joint High Speed Vessel (JHSV 6), has completed U.S. Navy acceptance trials.
The trials, representing the last significant milestone before delivery, were undertaken in the Gulf of Mexico and involved comprehensive testing of the vessel's major systems and equipment by U.S. Navy.
Austal Chief Executive Officer
Andrew Bellamy said
the consistent performance of the EPF's during acceptance trials is further reflected by the innovative platform's success in deployment with U.S. Navy's Military Sealift Command throughout the world.
"The mature EPF program has not only achieved outstanding efficiencies during construction - delivering high quality vessels, like USNS Brunswick - but is exceeding expectations as a multi- mission platform, enhancing capability in a variety of challenging operating environments
from Africa
to Asia and South America," Bellamy said.
After delivery of EPF 6, Austal will deliver a further four Expeditionary Fast Transports from its shipyard at Mobile,
Alabama
, under a 10-ship, $1.6 billion contract from the U.S. Navy.