Keppel FELS Delivers Third Accommodation Rig to Floatel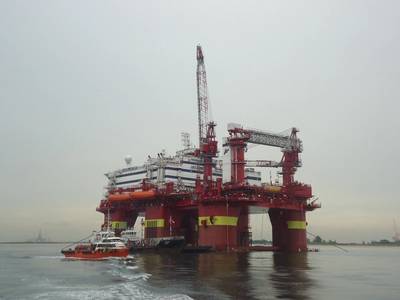 Keppel FELS Limited (Keppel FELS) celebrated the naming of their third consecutive accommodation semisubmersible (semi) rig built for Floatel International Ltd (Floatel). The rig will be delivered more than four months ahead of schedule and within budget.

The rig was named Floatel Victory on November 19, 2013 at Keppel FELS and will be chartered to Chevron for work in the Gulf of Mexico and BP in the West Shetlands. The first two accommodation semis – Floatel Superior and Floatel Reliance – which Keppel FELS had built for Floatel, were delivered in 2010 to the same high standards of execution.

Peter Jacobsson, CEO of Floatel, said, "Floatel Victory is the second accommodation semi in our fleet that is built to operate in some of the world's harshest environments. We are pleased to have entrusted the project to Keppel, which has continued to deliver with the world-class standards and reliability that we have come to expect of them."

Wong Kok Seng, Managing Director (Offshore), Keppel O&M, and Managing Director, Keppel FELS, shared, "The SSAUTM 5000NG is an enhancement of the proven SSAUTM 3600 design, with improved capability and operability, and we are confident that this third rig will be just as successful as the first two."

He continued, "The fourth rig that we are currently building for Floatel is progressing well and on track for scheduled delivery in 2015. We have just started work on the fifth rig that was awarded by Floatel in August this year, and we look forward to building on our win-win partnership with more excellent deliveries."

Floatel Victory is built to Keppel's proprietary SSAUTM 5000NG design, which is developed by Keppel Offshore & Marine (Keppel O&M)'s research arm Deepwater Technology Group. It meets the stringent UK HSE requirements to work in the U.K. sector of the North Sea as well as the Gulf of Mexico, Brazil and Western Australia, and is equipped with state-of-the-art accommodation and recreational facilities to provide increased comfort for the 500 persons it can accommodate in one-man and two-man cabins.