Acoustic Hailing Device: SE Asia Sales Boom for USSI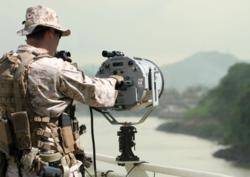 Ultra Electronics – USSI announce that IPS Securex, of Singapore, has secured equipment orders in most ASEAN countries.
US-based Ultra Electronics (USSI) is pleased to announce that IPS Securex, of Singapore, is the "HyperSpike Reseller of the Year" for FY 2012. IPS worked with customers to deploy HyperSpike AHDs in Vietnam, Thailand, Indonesia, and other South-East Asian countries.
HyperSpike's Mass Notification Systems (High-Power Speaker Arrays) are claimed to be the most powerful speakers for their size on the market. The MA-1 (weighing a scant 48 lbs) can relay voice across a 7 square mile radius. HyperSpike MNS are perfect for tactical command and control, fire, and natrual disaster warnings.

IPS Securex, a division of the IPS Group of Singapore, has been repeatedly recognized for superior service and support by its OEM partners. IPS Securex focuses on providing superior security-focused products for its customers around the Pacific Rim, including HyperSpike AHDs, explosive sensors, cargo scanners, and more.
"I am pleased to publicly recognized IPS Securex for its contribution to HyperSpike," said Nathanial Schueth, International Business Manager, "but even more importantly, credit goes to IPS for inserting life-saving technologies that are used daily by South-East Asian forces to save lives on both sides of the HyperSpike ."
IPS has deployed the HyperSpike HS-Micro, HyperShield,HS-14 , HS-16, HS-18, & HS-24 units to various military and commercial customers in the region. The patented HyperSpike AHDs are used to clearly communicate long-distances to determine intent and deter unwanted intruders, protecting critical assets and lives.