Cruise Line Orders USSI Acoustic Hailing Devices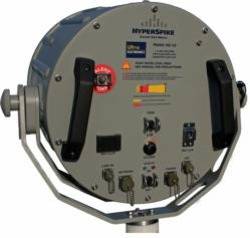 Ultra Electronics (USSI) announce a major cruise line chooses HyperSpike Acoustic Hailing Devices (AHDs).
The cruise line purchased the HyperSpike HS-16 with an effective communication range of 1000 meters and beyond. The HS-16 has a peak acoustic output of 148 dB and has exceptional voice clarity with a Speech Transmission Index (STI) of 0.85 out of 1.0. The line-in cable on the HS-16 gives the operator the capability to use any commercially available MP3 player, to play a prerecorded message in any language to an approaching threat.

"Commercial maritime security has been a growing need," said Nathan Schueth, HyperSpike International Business Manager, "Companies are looking for cost effective ways to protect their investments. HyperSpike AHDs can be a vital part in communicating and determining intent of a potential threat."

The HS-16 is light weight, weighing only 49 lbs (22.23 kg), and can easily be transported to different areas of a ship. With a best-in-class size to power ratio, the HS-16 is the ideal choice for customers looking for an AHD that can penetrate high background noise environments and is easy to transport.
Ultra Electronics – USSI – is based in Columbia City, Indiana.