Noreq AS acquires Acta AS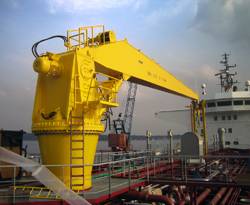 Maritime supplier, Noreq announced the acquisition of Acta in Denmark.
Since 1955, Acta has been a supplier of offshore marine cranes, life raft- and MOB davits as well as deck machinery. Acta is the only crane manufacturer in the world having CE marking on offshore cranes for wind power installations off shore. Acta is located in Odense, Denmark and the name of the new company is NoreqActa.
"With this acquisition, the Noreq group is not only strengthening our foothold in the lifeboat, davit and fender market, but we are also entering the industry with production of own ship- and offshore cranes. We see great synergies together with our existing product range and our clients will benefit from this strengthening of our product portfolio. We have a lot of common tasks on production, sales, service and maintenance which we will benefit from," said Styrk Bekkenes, Managing Director of Noreq.
By purchasing Acta we are also entering a new industry. Acta has long been an important sub supplier to the wind power industry and they hold great competence and expertise on this subject. With the future of green energy we will continue to build and strengthen Acta's position within this industry and we see a great potential here," says Bekkenes. The number of employees in Noreq Group will now increase from 35 to 70 people.
Since the beginning in 2006, Noreq has achieved a position in the market as an innovative manufacturer of lifesaving equipment. The new enclosed davit concept from Noreq has been our greatest success so far. From the introduction of the new davit system in 2009 we have sold more than 130 systems. The acquisition of Acta will enable a needed strengthening of our product portfolio and our service team.