Zentech Acquires Derrick Barge 23, Renamed ZEE RIG 3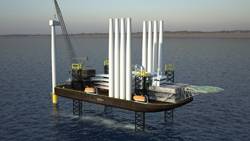 Zentech, Inc. has acquired the former Derrick Barge 23 and renamed it ZEE RIG 3. "We intend to upgrade the vessel in two phases, first for use as a crane barge with increased lifting capacity, and later as a much larger self-propelled jackup vessel for wind farm installation service," said Zentech President Ramesh Maini. The vessel is being prepared for conversion work at a Gulf Coast shipyard.
The vessel was purchased from Bohen Crane and Equipment Repair LLC. In its current configuration, ZEE RIG 3 is 400 Ft. long, 100 Ft. wide and has a hull depth of 29 Ft. (121.9m long, 30.5m wide and 8.8m hull depth). It is outfitted with an AmClyde Model 52 Marine Crane that will be initially upgraded to 800 U.S. tons with a 275 Ft. boom length (725.6 mt with an 83.8m boom).
Phase Two of the upgrade will transform ZEE RIG 3 into a much larger DP-II self-propelled jackup, with the width increasing from 100 Ft. to 176 Ft. (30.5m to 53.6m) and capable of operating in 200 Ft. (61m) water depth. The main crane will be further up-rated to 1,100 U.S. tons (997.7mt), and above-deck quarters accommodations will be added. This conversion will be completed in the fourth quarter of 2012.
Zentech is a Houston based marine engineering and naval architecture consulting firm specializing in the offshore oil and gas and renewable energy industries. The Company has a thirty year history of providing innovative engineering solutions, and employs a professional staff of over 160 in six international locations. Zentech's expertise encompasses dynamically positioned semi-submersibles, drillships, jackup drilling units, barges, fixed offshore platforms, self-erecting platform rigs, floating production systems, risers and pipelines.
The company's primary disciplines include structural engineering, naval architecture/marine engineering, mechanical and electrical engineering. Zentech owns five state-of-the-art jackup drilling and wind farm support vessel designs. In addition to ZEE RIG 3, Zentech also owns a Semi-SWATH vessel that is ideally suited for oil and gas and offshore wind farm installation work, and currently available for charter.