Loctite Adhesive Bonds Low Surface Energy Plastics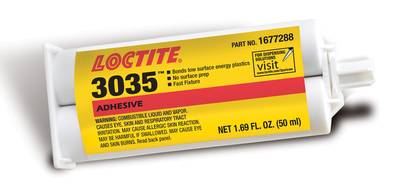 For low surface energy polyolefin plastics that are extremely difficult to bond, Henkel Corporation has introduced Loctite 3035 Polyolefin Bonder, an innovative two-part acrylic adhesive that mixes easily, stores at room temperature, and fixtures to plastics and metals in less than 15 minutes without surface preparation or primers.
This adhesive achieves superior bond strength on PP, PE, HDPE, LDPE, ABS and nylon, and offers good environmental resistance in a range of end-use applications.

Designed and formulated for ease-of-use, Loctite 3035 Polyolefin Bonder is packaged in a 50 or 400 ml cartridge that ensures an accurate 1:1 mix ratio upon dispense. This simple and easy-to-achieve mix ratio ensures that the adhesive will cure properly and achieve a high-strength bond every time. As it is stable at room temperature, the new polyolefin bonder minimizes energy and equipment costs associated with refrigerated storage. Loctite 3035 Polyolefin Bonder further reduces manufacturing and labor costs since primers and surface treatments are not necessary.

Low-cost, durable polyolefin plastics are becoming increasingly popular in the design and production of everyday products. Loctite 3035 Polyolefin Bonder is providing reliable and consistent performance to manufacturers of appliances, ATVs, outdoor power equipment, outdoor furniture, plastic pipes, storage tanks, toys and watercraft.