Hartzell Air Movement Offers Adjustable Pitch Propeller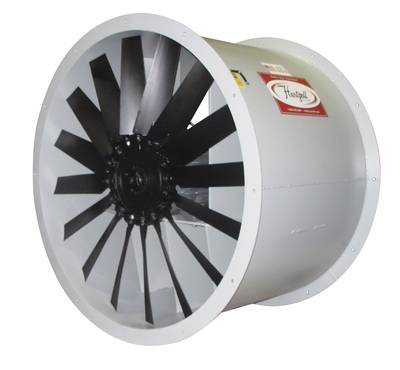 Hartzell Air Movement has released their new medium pressure, adjustable pitch propeller for marine duty applications.
The new die-cast aluminum propeller has been specifically engineered to enhance the operating performance of their Series 44M Ductaxial fan. The Series 44M with the new AM propeller is available in sizes 12 to 48 inches and produces up to 65,000 CFM and up to 4 inches of static pressure.

Tom Gustafson, Chief Technology Officer explains, "With the addition of this new AM propeller, we will continue our leadership role in providing rigorous product solutions for marine environment applications." The Series 44M with the AM propeller design is available for use in a variety of hostile environment applications, from engine room exhaust to cargo hold ventilation, in offshore oil rigs or workboats.

Sean Steimle, President of Hartzell Air Movement, states "The AM propeller is a direct result of listening to our U.S. and global marine customers' requirements. We will continue to introduce products to service the needs of the expanding global marine industry. We have also recently opened a manufacturing facility in Singapore to support those demands."

Hartzell Air Movement is a manufacturer of industrial air moving solutions to a variety of markets throughout the world. The company manufactures in Ohio, Indiana, and Singapore. Hartzell has been in business since 1875.