Shark Marine ROV for China Ocean Administration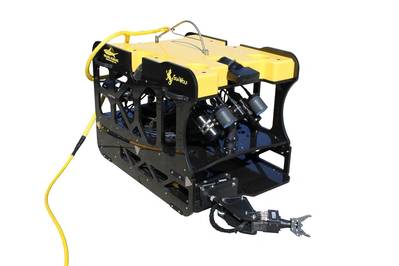 Shark Marine Technologies Inc., a manufacturer of underwater technologies since 1984, announced the delivery of the newly enhanced Sea-Wolf 3 ROV system to The State Oceanic Administration of China. The SOA will use the Sea-Wolf 3 to perform marine scientific surveys and research activities. The SOA is responsible for overseeing marine construction projects, submarine engineering projects and routine coastal surveillance.

The Sea-Wolf 3 system is loaded with extras and software capabilities just recently introduced into the light work/ inspection class of ROVs. The system was designed for increased modularity and ease of maintenance and configurations. The Sea-Wolf 3 has an increased payload, an external pan/tilt platform and an open frame design to allow more flow to the thrusters and less drag in currents.

Setting this ROV apart from the rest, not including the quality and experience in the underwater industry that Shark Marine has become known for, is the powerful DiveLog software. Field proven for target mapping, route surveys, and target reacquisition on the "Navigator" Diver Hand-held Sonar System, DiveLog is now taking control of the ROVs. DiveLog adds a new level of autonomy for the ROV pilot. New capabilities include: Route Following, Go To, and Station Keeping. DiveLog has also simplified the data inputs from multiple sensors onto one screen, whilst recording all the data into convenient project folders.