China – Advanced Patrol Boat on First Mission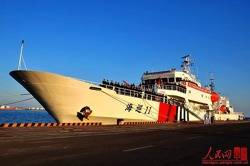 Chinese largest, most advanced patrol ship Haixun 11 on first exercises
China's Maritime Patrolling and Surveillance Detachment report that Hiaxun 11 joined with three patrol vessels from Liaoning MSA to cruise in the Lvshun-Changxing water area.
Haixun 11 is China's largest and most advanced patrol ship with a length of 114 meters and a displacement of 3,249 tons. She has a maximum speed of 22 knots.

This cruise, focused on marine safety measures, lasted four-and-a-half hours on the look-out for floating ice, floating debris and fishing nets. In addition, the ships also inspected the northern bank of Changxing Island and oversaw the operation of ships in that area. The cruise team warned approaching vessels to take evasive measures of the obstructions they had identified.
(Details of ship propulsion and armament were not given in this news release)