Tognum Make Ramblers Happy with Path Agreement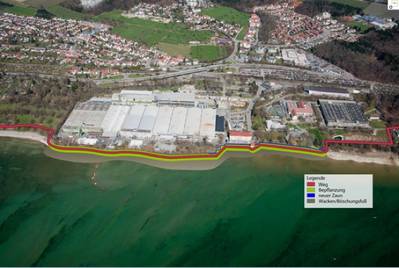 Tognum has agreed to the building of a public path running between its MTU plant in the Friedrichshafen district of Manzell and the shore of Lake Constance.
A contract to that effect has been signed by Joachim Coers, CEO of Tognum and managing director of MTU; Andreas Brand, Lord Mayor of Friedrichshafen; and Lothar Heissel, chief architect from the regional administrative authority (Präsidium) in Tübingen.
With its signature, MTU Friedrichshafen allows Friedrichshafen City Council to build the path directly in front of the MTU Plant 2 site. The path, around 700 m in length, will run on an embankment about 1 m away from the boundary of Plant 2. It will begin to the west of the site on what is known as the 'old camping site' (Alten Zeltplatz) and run eastwards, ending in front of a green residential area known as the 'Seemooser Horn'. The path mainly runs along the perimeter of the MTU site, and a small part of it will actually cross MTU premises on the east side. This solution allows the existing vegetation to be largely preserved.

"I am pleased that after lengthy negotiations, we have been able to find a good compromise that makes the lakeside path possible while guaranteeing that our site is properly protected and our property secure," said Tognum CEO Joachim Coers at the signing, which took place directly on the lakeside.

An additional fence is to be built over parts of the factory's perimeter, with monitoring by optical and electronic security devices. In the negotiations, which were fair and constructive, the contract partners agreed that Tognum AG would voluntarily contribute around 200,000 euros to the total amount of 2.4 million euros that the building of the lakeside path and renaturation measures would involve.