Wärtsilä Extends Licence Agreements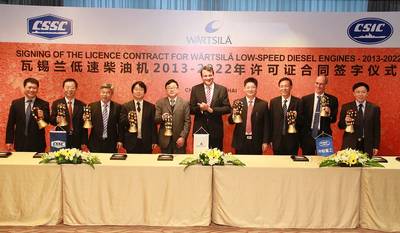 Wärtsilä, a solutions and services provider, has signed new licence agreements with seven of its long-term Chinese partners.
CSSC (China State Shipbuilding Corporation) has been a Wärtsilä licensee since 1978, and four of its engine companies have signed new agreements giving them licence to manufacture, sell, and service Wärtsilä low-speed engines for a further ten years. The four companies are HHM (Hudong Heavy Machinery Co Ltd), CMD (CSSC-MES Diesel Co Ltd), CME (Zhenjiang CME Co Ltd) and GMD (CSSC Guangzhou Marine Diesel Engine Co Ltd).

Similarly, three companies belonging to CSIC (China Shipbuilding Industry Corporation), a licensee since 2004 when it demerged from CSSC, have also had their Wärtsilä licences renewed. The relevant companies are DMD (Dalian Marine Diesel Co Ltd), QMD (Qingdao Qiyao Wärtsilä MHI Linshan Marine Diesel Co Ltd), and YMD (Yichang Marine Diesel Engine Co Ltd). The agreements were signed during a ceremony held on 3 December 2012 in Shanghai and cover the period from 2013 to 2022.

Under the terms of the newly signed agreement, the seven companies are licensed to manufacture and sell the full range of Wärtsilä RTA, RT-flex, and Generation X low-speed marine diesel engines within their specified territories. Speaking at the signing ceremony, Mr Qin Wenquan, Chairman of the Board of Hudong Heavy Machinery Co Ltd and chairman of the board of CSSC-MES Diesel Co Ltd, said: "The application of new technologies has made the Wärtsilä two-stroke engine extremely competitive in terms of fuel consumption, exhaust emissions, and performance. More and more shipyards and ship-owners are indicating their preference for Wärtsilä engines." He further emphasized that: "As regards mutual co-operation, Wärtsilä continuously strengthens its communication with licensees, and provides strong support in both technology and marketing aspects. This has been especially relevant during the recent depressed market situation, where Wärtsilä has stood tightly with the licensees to overcome the difficulties together."

Mr Wu Shu, President of Dalian Marine Diesel Co Ltd, representing CSIC, thanked Wärtsilä in his speech for the past co-operation and looks forward to further strengthening it in the future. He mentioned especially the support that Wärtsilä has given in the successful manufacture of the RT-series of engines, and the newly developed Wärtsilä X72 engine for which Dalian Marine Diesel has already won orders. "Through our joint efforts, even more advanced engines can be developed", he said.

Martin Wernli, Managing Director of Wärtsilä Switzerland and Vice President, Wärtsilä Ship Power 2-stroke, underlined this theme in his speech at the signing ceremony. "Consistency in the terms and conditions under which we are working together, and consistency in the personal relationships between the staff members of our companies forms the basis of successful engine development, production and sales. Consistency is also what we need in the current challenging and rapidly changing market environment. In this way we can not only maintain but also further improve customer satisfaction by designing, manufacturing, selling and servicing world-class products with state-of-the-art technology."

The first orders for Wärtsilä's new Generation X (long-stroke) engines have already been received in China, the world's leader in merchant vessel shipbuilding.