BAE Roll Out Giant UK Aircraft Carrier Module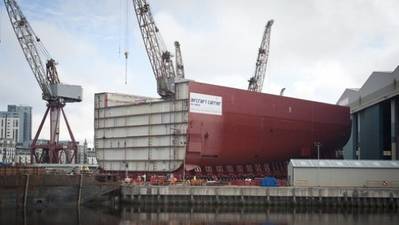 In Glasgow, Scotland, workers moved out the biggest section of 'HMS Queen Elizabeth', the first of two new aircraft carriers for the Royal Navy.

A team of 40 moved the 11,300 tonne aft section, known as Lower Block 04, across the specially reinforced tarmac at the yard in less than three hours using 450 remote controlled transporters. 

Angus Holt, Queen Elizabeth-Class Block Delivery Director at BAE Systems, said:

"Today marks the culmination of months of hard work and preparation and I am extremely proud of the team's achievements in successfully loading out the aft section on time and built to an exceptional standard. The sheer size and complexity of the block both highlights the skill of workforce here on the Clyde and the huge amount of progress which we continue to make on the programme to deliver the nation's flagships."


The module will be loaded on to one of the two biggest sea-going barges in the world in preparation for her journey to Rosyth where the aircraft carriers are being assembled. Departing from Govan on Saturday 3 November, the 600 mile journey will take Lower Block 04 around the north coast of Scotland. 


The aircraft carriers HMS Queen Elizabeth and HMS Prince of Wales are being delivered by the Aircraft Carrier Alliance, a unique partnering relationship between BAE Systems, Thales UK, Babcock and the UK Ministry of Defence. BAE Systems has an overarching role in managing the QE Class programme, as well as playing a central role in the design and build of the ships.