Submarines – Russia Offers India Air-independent Propulsion Systems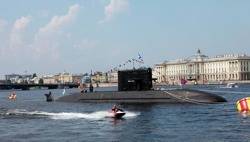 Moscow hopes for Indian Navy order for air-independent closed-cycle engined submarines for the Indian Navy
Russia has offered to help India build air-independent (closed cycle) propulsion systems for installation in Amur 1650 class submarines and also to equip future possible joint Indian-Russian built vessels, according to Viktor Komardin, the deputy head of Rosoboronexport's delegation at the recent Defexpo Indian defense show.
The Amur 1650 is one of several contenders, including the Scorpene (France), Type 214 (Germany) and S-80 (Spain) in a tender for the Indian Navy for six subamrines with a total value of $11.8 billion.
"Russia is currently completing tests of a new air-indepedent propulsion system, which could be installed not only on the Amur 1650 but on jointly developed boats," Komardin said. "This is a critical factor for the Indians. So our chances here are good," he added.
Rosoboronexport, Russia's defense sales holding, has already offered India its Amur 1650 boat, which started trials with the Russian navy in 2010. The Amur has an armament of multirole torpedos and Klub anti-ship missiles, and can also strike land-targets with advanced cruise missiles, which may include the India-Russian Brahmos.
The Amur 1650 has a good chance of winning the tender, Komardin claimed, thanks to its ability to remain submerged for over 25 days using its air-independent propulsion, and also its long-range weaponry. Similar foreign boats can only stay submerged for 15-20 days.
Air-independent submarines, usually using hydrogen-orygen fuel cells, are quieter than conventional diesel-electric boats, and do not have to surface or use snorkel tubes to breathe air, which makes them vulnerable to detection by radar and other sensors.