Sick Crew Member Airlifted Off Crowley Tankship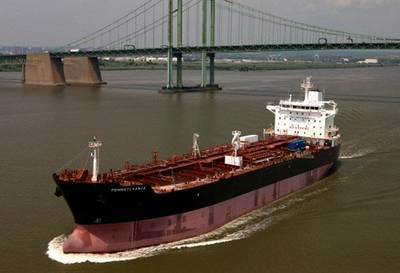 The Coast Guard informs it has medevaced a 54-year-old crewmember from the Crowley Maritime's US-flagged motor tanker 'Pennsylvania' approximately 20 miles southeast of Cape Hatteras, N.C.

The master of the 576-foot Pennsylvania notified Coast Guard Sector North Carolina watchstanders that a crewmember was suffering from chest pain and needed medical attention.

Sector watchstanders launched a crew aboard an MH-60 Jayhawk helicopter from Coast Guard Air Station Elizabeth City, N.C., to assist.

The helicopter crew hoisted the man and took him back to the air station, and he was then transferred to an ambulance and taken to Albemarle Hospital in Elizabeth City.

According to Crowley's web site, the Veteran-Class designed tankship Pennsylvania is based on the as-built Athenian-Class 46,000 dwt product tanker from Hyundai Mipo Dockyards. The standard design was subsequently changed to conform to U.S. registry and U.S. coastwise trade requirements.