Air/Water Hose for Safe Wash Down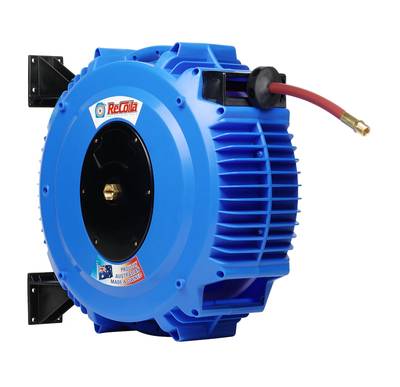 General workshop cleaning environments in mining, engineering, dockyards and abattoirs are industry sectors for which ReCoila's Gen III Air/Water series (AW Series) reels have been designed.

This tough, impact resistant series of reels is perfect for extended use in general workshop applications such as cold water wash down. It also provides an efficient storage system for hoses, thereby taking trip hazards off the ground and improving safety levels during cleaning processes. These units are manufactured from impact- and corrosion-resistant polypropylene; the ReCoila AW Series is tough, reliable and made from the highest quality components to withstand tough industry demands and heavy duty cycles.

For very demanding and near-continuous applications such as those pose by the mining industry in particular, the advantage of using ReCoila's AW Series in workshop washdowns is if ever there is a need for urgent follow up service or parts, ReCoila is Australia-based and has immediate parts and service availability. Imported alternatives could lie dormant for weeks if equipment is solely reliant on foreign proprietary parts.

ReCoila's Gen III AW Series is available in a range of hose lengths up to 20 metres, and hose ID from 8mm to 12mm. The AW series is suitable for up to 240 PSI working pressure at 30°C. Other advantages of installing a ReCoila reel include increased safety as the hose is coiled neatly ready for use, not lying on the floor creating a trip hazard.

The workplace can also become more efficient and therefore more productive as a result of having an easy to find and easy to use hose – the hose is always stored on the reel ready for use. The AW Series reel is also suitable for compressed air, and models are available with special purpose EPDM rubber hose for applications where welding spatter adversely affects standard hoses.

ReCoila also design and manufacture custom hose reels for individual client requirements.