New Power in the Heart of the Alaskan Beast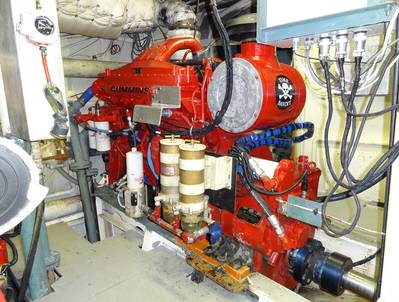 Twenty-two year-old crab boat's faithful Cummins diesel engines replaced with state-of-the-art version.

Fans of the popular Discovery Channel series "The Deadliest Catch" thrill at the sight of the 113-foot, black-hulled Time Bandit's bow rearing out of a cresting wave. Onboard men launch and recover 1000-pound crab pots while chilled Arctic seas wash over the working deck. In the wheelhouse, the crab boat's skippers Andy or Jonathan Hillstrand monitor the deck crew and the boat's electronic navigation equipment.

In the fall of 2012 boat owners, Andy, Jonathan and younger brother Neal Hillstrand carried out a repower on the Time Bandit. Their father had the boat built in 1991 at Giddings in Charleston Oregon and leased it to them with the option to purchase. "My dad always used Cummins engines in his boats and so the Time Bandit was built with a set of Cummins. We replaced those original engines with a second set of Cummins KTA19 engines. After that pair ran for 48,000 hours we again repowered with a pair Cummins ReCon engines," Andy explained.

It was those KTA19 engines that the brothers decided to replace with modern electronically-controlled Tier 2 certified QSK19-M engines. Whilst at the Cummins factory in Seymour, Indiana, the brothers saw an engine painted red and decided they wanted theirs to be the same colour. And with that request, Cummins began offering red as a paint option on all marine engines, in addition to the company's traditional marine gray.

The engines were shipped to Kodiak, Alaska, where they were installed along with a new set of Cummins 6BT-series engines to power the pair of 125 kW gensets. While the genset repower was like-for-like they did increase the horsepower on each engine from 200 to 270 HP.

When television viewers see the Time Bandit fighting through the Bering Sea in the upcoming season of "The Deadliest Catch," they may not be aware of the new engines, but in the wheelhouse Andy and Jonathan Hillstrand will have the flexibility to take economy or speed from their new electronically controlled QSK19's as sea conditions require.