Navy Conducting Final Alternative Fuel demo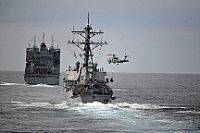 Navy to conduct final alternative fuel demonstration of the year with Landing Craft Air Cushion (LCAC).
WHAT: The U.S. Navy is conducting its final alternative fuel demonstration for the year with a maritime alternative fuel test in a Landing Craft Air Cushion (LCAC) stationed at Naval Surface Warfare Center Panama City Division (NSWC PCD), Panama City, Fla., Dec. 9. WHEN: Media availability will be held Dec. 9, 9 a.m. (CST).
WHERE: LCAC ramp at Bldg. 319, Naval Surface Warfare Center Panama City Division.
DETAILS: This latest demonstration of maritime alternative fuels formaritime use marks the final such test for the year; and directly supports the secretary of the Navy's target to demonstrate a Green Strike Group by 2012, and deploy a strike group composed completely of alternatively powered ships, "The Great Green Fleet," by 2016.Landing Craft, Air Cushion vehicles are amphibious, expeditionary transports that move elements of a Marine Air/Ground Task Force - weapons systems, equipment, cargo, and personnel - from ship to shore and over the beach. For the test, the designated hovercraft will receive approximately 5,000 gallons of a 50-50 blend of hydro-processed algal oil and petroleum at NSWC PCD to power the four main propulsion gas turbine engines and two gas turbine generators.