Aluminium Boats Australia Scoops Award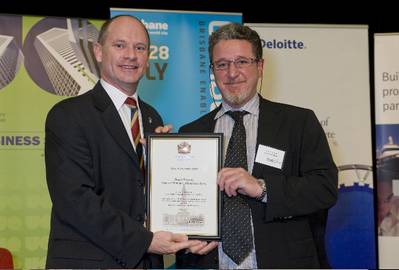 Aluminium Boats Australia (ABA) announced that General Manager Stuart Pascoe won the Brisbane Lord Mayor's Leaders of Innovation 2010 award. Selected for his individual ability to enable innovation and create commercial value, Brisbane Lord Mayor Campbell Newman announced Stuart as winner of the award for the product innovation category.

In 2009 Aluminium Boats Australia delivered the first of its Eco Jet waterbus catamarans to Transit Systems for operation around the south Moreton Bay islands. Eco Jet concept that ABA is now building its fifth vessel for the customer.

Custom designed and built for environmentally sensitive waters, with particular attention to protecting dugongs and turtles in the shallows of the southern part of Moreton Bay, the ABA Eco Jet catamarans deliver an optimum solution for any area where there are shallow waters and an environment at risk. The waterbuses offer large carrying capacity; up to 200 passengers on short trips, while delivering low fuel consumption because weight has been kept to an absolute minimum.

The Brisbane Innovation Scorecard is an initiative of Brisbane Marketing in collaboration with Deloitte, University of Queensland Business School, Brisbane City Council and Queensland Government.