New Capacity For Ambitious Open Die Forgings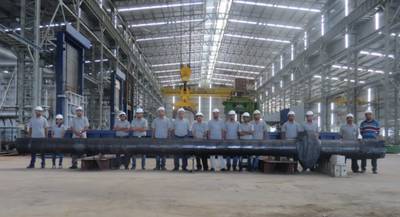 Sanghvi in Gujarat, India has its free forging plant now in operation and it is likely to be the most modern plant in the country.
The wealth of experience Sanghvi has gained with closed die forgings in all steels has made them specialists in this sector. To the international clientele new opportunities are offered with high aspirations and similarly good back-up from a dedicated technical and commercial staff.

Next to the existing forging press with an installed capacity of 3.600 MT per year, the recently commissioned four column hydraulic press of 4.500 TF is now in operation.

The manipulator on a 20 m track can handle 60 MT of hot ingots during forging. Five car bottom furnaces have been installed for ultimate heat treatment facilitation.

The installed new capacity is free to utilize and allows for big forgings up to 40 MT piece weight under strict quality inspection and third party surveillance. The infrastructure is ready to take care of a production capacity of 15.000 MT/year.

The new plans for specialization in super alloy steels are being implemented.

Sanghvi Forge has obtained all management certifications: ISO9001:2008 – ISO14001:2004 and OHSAS BS18000.

The company has a good reputation and operates a computerized warehouse in Central Europe for serving its regular customers with special flanges and instrument fittings.