World's First Hi-speed Amphibians Miami Debut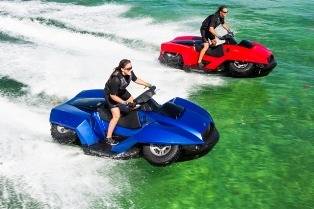 The GIBBS Quadski, will make its Miami public debut at this year's Miami International Boat Show (Feb. 14-18).
Developed and built in the U.S., the high-speed amphibian (HSA) has a durable, but light-weight composite hull; utilizes patented water-jet technology, and is powered by a BMW Motorrad engine and transmission.

The Quadski transitions from land to water in less than five seconds and reaches planing speeds in seconds. The new HSA weighs 1,300 pounds, is equipped with a 15-gallon fuel tank and retails for about $40,000.

Currently available in five colors – red, yellow, blue, silver and back – the GIBBS Quadski already is on sale in Florida and soon will go on sale at other dealerships in Michigan, New York, Texas and elsewhere in the Midwest and southeastern United States.
The dream of two visionary entrepreneurs -- Alan Gibbs and Neil Jenkins -- the Quadski is the product of millions of research dollars and years of development work in the U.S., New Zealand and the UK. It is being assembled at a 54,000-square-foot assembly plant in Auburn Hills, Michigan.

Two Florida dealers are among the first dealerships authorized to sell and service the Quadski in the United States. The all-new HSA is on sale at RIVA Motorsports and Cycle Springs Powersports of Clearwater. The world's largest personal watercraft dealer, RIVA has newly expanded facilities in Pompano Beach, Cutler Bay and Key Largo. Cycle Springs Powersports is the Tampa Bay area's largest family-owned powersports dealer.