Fednav Celebrates Anniversary Trio in Cleveland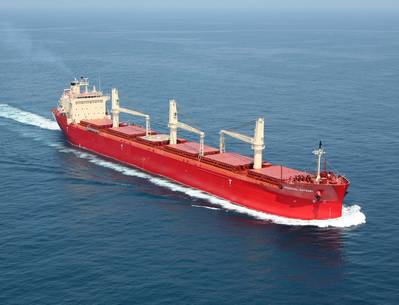 Fednav Limited held a reception on board one of its vessels, the Federal Mayumi, at the Port of Cleveland yesterday to celebrate a trio of anniversaries: the 70th year since the founding of the company, 55 years of continuous general cargo liner service from FALLine and 50 years since the establishment of its terminal division, FMT (Federal Marine Terminals).
Guests on board, representing clients of the company, heard remarks from Mark Pathy, President and co-CEO of Fednav Limited, William Friedman, President of the Port of Cleveland, and Betty Sutton, Administrator of the Saint Lawrence Seaway Development Corporation.
"This trio of milestones highlights Fednav's commitment to Cleveland and to the Great Lakes," said Mark Pathy. "It is because of very successful divisions like FALLine, FMT, and Fednav Direct, through sustained growth and through financial commitment represented by new vessels, that we can look forward to the coming decades with strong optimism."