Cruisers Yachts Launch New Line on 60th Anniversary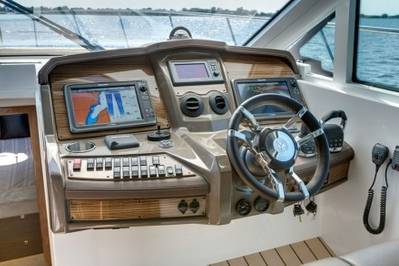 Cruisers Yachts launched its anniversary celebration at the 2013 Miami International Boat Show with a new range of boats.
Proudly celebrating six decades, Cruisers Inc. models were launched and the new company incorporated in Oconto, Wisconsin in the summer of 1953.
"While 60 years of Cruisers Yachts' brand excellence and world-class manufacturing warrant celebration, our anniversary will be more about celebrating 60 years of building owner and dealer relationships, an enormous component of our brands' success," said KC Stock, CEO of KCS International Inc., parent company of Cruisers Yachts, Cruisers Sport Series and Rampage Sport Fishing Yachts.

The stylish 45 Cantius, the newest model in the Cantius fleet, will be available in 2013 featuring the sleek Black Diamond Limited Edition special package.

"The 45 Cantius showcases our superior workmanship, unique product development and is first in its class to offer a newly designed open floor plan allowing boaters to open up the glass enclosure at the cockpit and experience the feel of an express boat while enjoying the luxuries of a sedan," explained Mark Pedersen , president of KCS International Inc. "Owning this premier model in the Black Diamond Limited Edition represents a distinguished acquisition and will be a masterpiece and timeless tribute to the history, craftsmanship and innovation of Cruisers Yachts."

The 2013 anniversary celebration will also include the unveiling of the designs for a new Cruisers Sport Series model, the 320 Bow Rider, which will also be available in the Anniversary Black Diamond Limited Edition special package.