RCL Announces Share Buyback Plan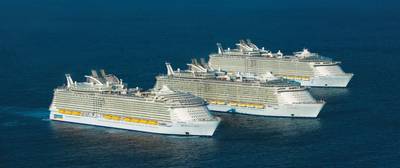 Royal Caribbean Cruises has announced board authorization for a $500 million share repurchase program.
The company said that it received board approval to implement a program to repurchase up to $500 million of its common stock. The plan will include opportunistic open market purchases over the coming periods.
Last week we achieved our financial objective of becoming an Investment Grade company with Moody's announcement improving the company's credit rating to Baa3 with a stable outlook.
"We continue to execute on our core financial objectives: improving shareholder returns, being an investment grade credit and moderately growing our business," said Jason T. Liberty, executive vice president and CFO.
"Over the past five years, we have increased our dividends fivefold, repurchased close to $750 million in common stock to date and have now reached investment grade. This new repurchase program is another example of our commitment to improve returns for our shareholders," Jason added.
RCL also reported US GAAP and Adjusted Earnings per Share of $0.99 for the first quarter of 2017. This is better than expected mainly due to improved revenue and overall bookings for the rest of the year continue to perform as expected. As a result, full year adjusted earnings guidance is increased to a range of $7.00 to $7.20.
US GAAP and Adjusted Net Income was $214.7 million or $0.99 per share, versus US GAAP Net Income of $99.1 million or $0.46 per share and Adjusted Net Income of $124.0 million or $0.57 per share in 2016.
Overall, the company's booked position remains at a record level, better than last year on both a rate and volume basis, says the company.