MEBA Announces Passing of Thomas Cannon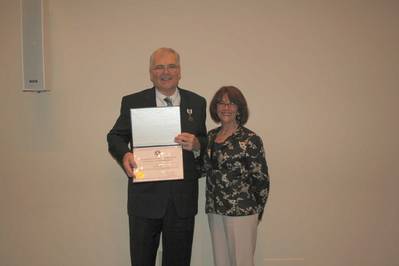 Former Calhoon M.E.B.A. Engineering School Instructor passes away at the age of 81.
It is with great sadness that the Marine Engineers' Beneficial Association (M.E.B.A.) announces the death of long-time friend and colleague, Thomas "Tom" Francis Cannon. Cannon passed away peacefully on January 7, 2012 in Salerno, Italy. He was 81 years old. "Tom was an engineer's engineer. He excelled at everything he put his mind to, and inspired those around him to achieve their best," said M.E.B.A. President Mike Jewell. "He was an excellent engineer, a motivating teacher, and a personal friend. He will be greatly missed."
Cannon was the definition of "Gentleman and Scholar." A person of enormous knowledge and experience in the fields of Marine Engineering, Electronics, and Process Control, he was also gifted with the talent and passion to teach. His contributions to the advancement and safety of marine engineering technologies were equaled only by his generosity, civility, and moral fiber.
"Tom Cannon, my classmate, shipmate and best man, was an inspiration to those who were privileged to know him. He was always responsive to the needs of others with simple or complex issues," said Vice Admiral Al Herberger, USN (Ret.), and former Maritime Administrator. "His smile, kindness and extraordinary legacy will be with us always." Cannon was born in Jersey City, NJ on March 20, 1930 to Thomas Francis Cannon and Norah Feeney Cannon. He was the youngest of seven children. He attended St. Aloysius High School and after graduation had a short career at Metropolitan Life in NYC.
He was a 1955 graduate of the United States Merchant Marine Academy, and earned a BS in Marine Engineering. Cannon went on to achieve a MS in Mechanical Engineering from the Stevens Institute of Technology. For most of his sailing career, he worked for American Export Lines and Sea Land Services. Beginning as a young man and throughout his retirement, Cannon held key engineering, technical, and managerial positions in critical maritime developmental projects and naval programs. He was the production engineer for the first subminiature electron tubes used in early computers, and for ceramic-shelled Nuvista tubes used in the first color TV's. He went on to serve as the instrumentation and control system engineer during the development and deployment of the first commercial nuclear cargo vessel, the NS SAVANNAH. He later served as her Chief Engineer.
Cannon was also the test engineer for Naval Sea Systems Command during development of Marine Gas Turbine Propulsion system design studies aboard the GTS CALLAGHAN; the first US commercial gas turbine cargo vessel. He also served as her Chief Engineer.
In addition, Cannon worked as a project engineer/manager for propulsion system conversions and modernization of several ships and ship-classes operated by Sealand Services. Again, he also served as the Chief Engineer of these vessels powered by large slow-speed marine diesels.
His last position, once he retired from the M.E.B.A. was that of lead instructor and course developer at the Calhoon M.E.B.A. Engineering School. Teaching was one of Cannon's passions. He was well liked and respected by his students and co-workers.

In 1995, Cannon received the Silver Mariner Award from USMMA. This award recognizes graduates of USMMA who through their career have fulfilled the principal goal of the Academy. In 1997, he was inducted to the USMMA Athletic Hall of Fame; while at USMMA he earned 10 varsity letters (more than any cadet before him) in baseball, football and basketball. He led the football team in pass receptions for three of the four years he played and led the baseball team's batting average and home runs for two years.
In 2008, the U.S. Maritime Administration awarded Cannon the Merchant Marine Medal for Outstanding Achievement and Distinguished Service. During the presentation, it was observed that Cannon might have been the only person to hold the license for, and have served as, Chief Engineer aboard a vessel of each current propulsion-type: fossil-fired steam, nuclear-steam, gas turbine, slow-speed diesel, and hybrid diesel-electric.
Certifications held by Cannon included: Licensed Senior Reactor Operator, Certified Instrumentation Electronics Technician, Certified Health Physics Technician, Certified Nuclear Instrumentation Engineer, and Certified Advanced Marine Trainer. Cannon was a life member of the Society of Naval Architects and Marine Engineers.
Visitation will be from 3 to 8 p.m. Sunday, Jan. 15 at the Reilly Funeral Home, 801 D St., Belmar. A Mass of Christian Burial will be held at 11 a.m. Monday, Jan. 16 at Our Lady of Mount Carmel R.C. Church, 805 Pine St., Asbury Park, followed by interment at St. Ann's Cemetery.
Cannon was predeceased by his wife, Teresa L. Wolkoff Cannon and is survived by his wife, Concetta Siano Cannon and seven children, Mary Anne (Dan), Thomas (Joseph), Suzanne (Ronald), Adrianne (Sean), Aileen, Piper (John) and Heather (Anthony); and his grandchildren, Ron, Tom, Norah, Joseph, Mickey, Matthew, Grace and Emma, along with many nieces and nephews.
In lieu of flowers, donations may be made to Sloan Kettering Cancer Center for Dr. Slovin's research, St. Jude Children's Research Hospital or United States Merchant Marine Academy-Kings Point.
The M.E.B.A. will be dedicating a plaque for Cannon in the Memorial Arbors at the USMMA.