Incat Crowther Announces Refit of Seastreak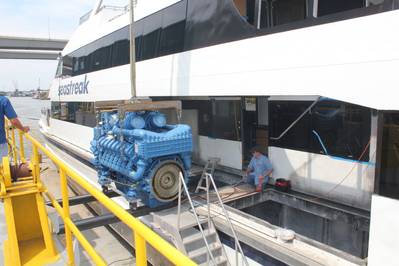 Seastreak Wall Street Refit with MTU Engines


Incat Crowther announced the successful completion of the re-fit of the 43m Catamaran Ferry Seastreak Wall Street. Seastreak Wall Street was the third of four such vessels built by Gladding Hearn in Massachusetts, and was launched in 2003. The vessels were originally fitted with four Cummins KTA50 main engines, each producing 1424kW. The engines drove a quartet of KaMeWa A50 water jets. The original propulsion package was chosen with emphasis on speed for the Atlantic Highlands to Manhattan service, delivering speeds in excess of 38 knots and four-engine redundancy.

Over time, the operating costs of the four-engine drivetrain, changes to the vessels' schedules and the age of the main machinery led the operator to request an investigation by Incat Crowther into repowering options. A thorough review led to the selection of a pair of MTU 16V4000M53 engines. Taking into account the operating profile of the vessel, it was deemed that in this case Servogear controllable pitch propellers would offer a significant fuel saving at the vessel's 32 knot operating speed.
Incat Crowther provided a comprehensive design service, preparing detailed drawings and documentation including revised Coast Guard submissions. Following a competitive tender process, the contract to perform the modification was awarded to Midship Marine of Louisiana. The engine re-power involved a considerable re-configuration of the aft end of the vessel. The topsides and the undersides of the hulls were removed from the waterline down, from the forward engine room bulkhead aft. New engine beds, longitudinal stiffeners and plating were fabricated to support the new engines, propellers and rudders.
The re-fit also included gutting the interior, repainting the vessel and fitting the interior with new carpet and toilets. The framed windows were also replaced with direct-glazing. As a result, Sea Streak Wall Street is now 15 tonnes lighter than originally built. She recently underwent sea trials, recording speeds of 35 knots. At equivalent deadweights, this represents a reduction in top speed of only 3 knots, despite a significant reduction in power and half the number of main propulsion engines. Combined with an increased in passenger capacity, the refit will see per-passenger CO2 emissions halved.

Robust, productive vessels like the Seastreak fleet are valuable assets, and have proven to be long-term workhorses when managed well by taking advantage of up-to-date technology and expertise.