Navy Divers Check Antarctic Wreck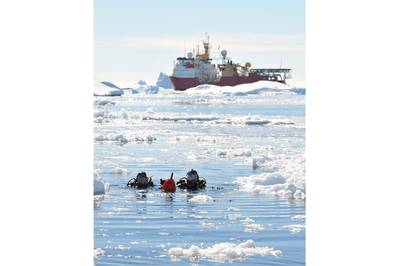 Divers from Royal Navy ice patrol ship HMS Protector braved the chilling temperatures to monitor the state of sunken research ship 'MV Bahia Paraiso'.
When she ran aground in 1989 the ship spilled 645,000 litres of diesel and caused one of the worst marine environmental emergencies in Antarctica to date. However, a recent Argentine and Dutch team carefully removed all traces of fuel, with HMS Protector's dive team tasked to ensure there was no further leakage.
Diving on the hull, and equipped with an underwater camera, the team were able to confirm that the diesel flow had ceased and also identified a rich ecosystem of hanging sponges and aquatic life.
Leading Diver Chris Hayes, the team leader, said:
"Diving in Antarctica is inconceivably amazing, with diverse aquatic life and breathtaking sea bed topography. It is a real privilege to dive in the Antarctic; it certainly makes a change from diving in UK waters searching for unexploded Second World War ordnance or in the very warm waters of the Gulf."
HMS Protector, which is based in Portsmouth, is a 5,000-tonne ice patrol ship that is deployed on operations 330 days of the year. Her mission is to provide a UK sovereign presence in the British Antarctic Territory, South Georgia and the South Sandwich Islands and their surrounding maritime areas.