Incat's High Speed Ferry Anti-Piracy Plan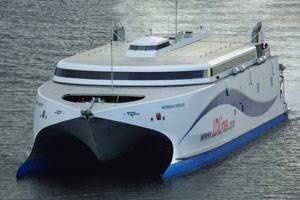 Incat's new 367.5 ft ferry for LD Lines, the Norman Arrow, currently runs to the United Kingdom from Tasmania.

In order to be prepared for the unlikely event of a boarding attempt by pirates, one of two Masters on board, Captain Guy South comments, "We locked every door and padlocked all the void spaces and access to the cabin was restricted to the port aft door only. We also posted an extra lookout aft throughout the high risk area.

"The Norman Arrow's speed was increased from economic delivery running to 30 knots for the most dangerous section and we also secured the mooring decks aft with as much rope as we had spare. If we were attacked the plan was that all the crew would go to the electronics room, the fourth engine would be run up and we'd run away. All small boats were given a wide berth and we also followed the Recommended Transport Corridor reporting to the warships as we went along.

"We didn't see any pirates but there was a ship attacked with Rocket Propelled Grenades about four hours ahead of us along our route. We also saw about half a dozen warships from various nations," Captain South said.

By Monday May 18, Captain Nick Dunn reported the Norman Arrow was quickly leaving the Gulf of Aden transiting the Bab El Mandeb (Gate of Tears) straits between Djibouti and Mayuun Island and turning North West into the Red Sea.

The Norman Arrow arrives at Port Suez at the southern end of the Suez Canal on May 21. Once through the canal, the vessel then points her bows towards Malta, her final call before sailing the final stretch to the English Channel where she is expected to arrive on May 26.

When she enters service between Dover and Boulogne in June, the Norman Arrow will be the first-ever freight carrying high speed vessel to operate across the Dover Straits and LD Lines becomes the first-ever French ferry company to operate high speed ferries on the short sea routes from Dover. The vessel is also the world's largest diesel-powered catamaran and it will be the first Incat 367.5 ft to operate in Europe.