New Anti-Terrorism Barrier Available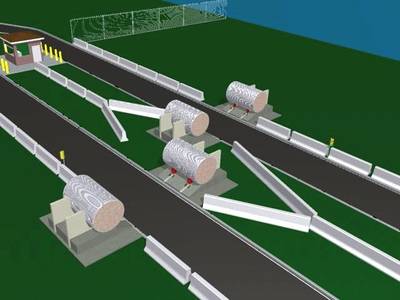 New Anti-Terrorism Barrier Combines Simplicity with Massive Vehicle Stopping Power. Ideal product for port security.
The company that designed the first portable vehicle barrier and the first barrier using lightweight energy absorbing material instead of heavy steel components, is introducing a new hybrid design unlike any existing anti-terrorism barrier. PRO Barrier Engineering's VolarXTM uses a gravity-propelled roller design to stop vehicle-based attacks and provide explosion protection. The name derives from Latin terms for rolling fortress. According to Dr. Tom Potter, President of PRO Barrier Engineering, "We set out to develop a barrier that addresses common complaints with existing designs, including mechanical complexity, disruptive roadway excavation, high maintenance, the inability to tailor vehicle stopping power, limited resistance to explosives, and high fixed costs. VolarXTM breaks new ground in all these areas."

"It's a hybrid design," Potter notes. "It combines the elements of a passive, non-moving barrier such as a concrete wall, with an active, moving barrier that can be opened and closed repeatedly to allow vehicle access." With VolarXTM, if a high-threat situation arises, a guard can quickly release two gravity-propelled cylindrical barriers which roll together to create an impenetrable obstacle capable of withstanding multiple vehicle impacts, as well as IEDs or other explosives. Equally important, once an attack is thwarted the road blockers can be retracted to reopen the entry control point. "It's a simple and elegant design for final vehicle denial," Potter notes.

Key features of the patent-pending VolarXTM system include:

• Open access until high-threat condition occurs
• Gravity-driven deployment, no motors or hydraulics
• Easily adapts to increase vehicle stopping power
• Two-step push button deployment for operational safety
• Operates on 120VAC power with a 12VDC battery backup; solar powered option
• Compact shipping, easy on-site assembly, heaviest components procured locally
• Surface-mount installation; no roadway excavation or drains required
• Optional "soft-stop" capability
• Easily hidden from view
• Simple, efficient, low-cost, and virtually maintenance free
PRO Barrier Engineering has designed VolarXTM to protect critical government, military, and industrial assets, such as buildings, bases, ports, and borders. It offers the anti-terrorism force protection industry a totally new approach to facility fortification.