Jotun, COSCO Celebrate 10,000th Antifouling Applications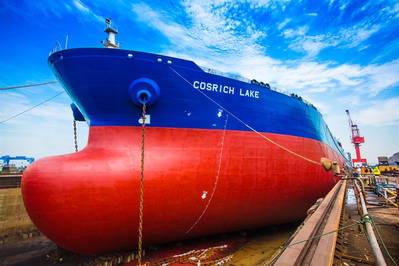 In July, Jotun and Dalian Ocean Shipping Company (a wholly-owned subsidiary of China Ocean Shipping Company, Cosco Group), celebrated the 10,000th application of SeaQuantum, Jotun's premium antifouling, to its 297,336-dwt tanker, Cosrich Lake.

According to Zhao Jinwen, Vice Managing Director COSCO DALIAN, SeaQuantum plays an important role in the company's efforts to improve fuel efficiency and reduce emissions. "COSCO DALIAN is committed to building the largest, specialized and most fuel-efficient fleet of bulk liquid carriers in China, and Jotun's SeaQuantum technology helps us achieve our goal," he said.

Geir Bøe, Jotun's Vice President Marine Coatings said the Cosrich Lake project represents a genuine milestone for Jotun. "Based on proven performance and trust from our network of global customers, SeaQuantum has strengthened its position year by year to become the industry's leading antifouling brand," he said. "We will continue to support the industry's efforts to reduce fuel costs and corresponding emissions with our full range of SeaQuantum products, optimized for different trading conditions."

As part of the ceremony, Jotun presented a ship model of Cosrich Lake to COSCO DALIAN to mark the occasion. "My congratulations to COSCO DALIAN on the delivery of their vessel, and to all our personnel for making SeaQuantum the market leader," said Jerry Yang, Deputy General Manager of JCMC "It is a significant achievement, and we look forward to the next 10,000 vessels."