SMM 2012: Solutions for Marine Applications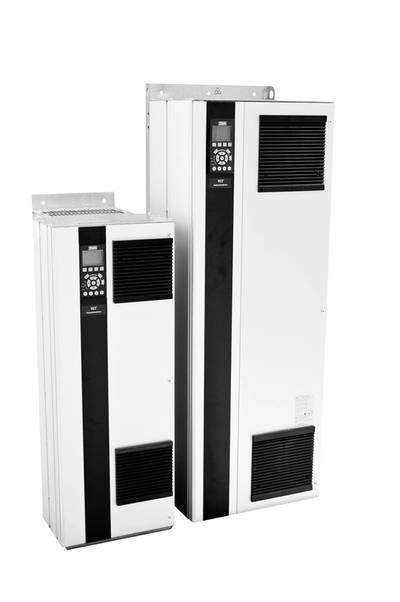 At SMM 2012, which takes place from 4 – 7 September, 2012, in Hamburg, Danfoss will be exhibiting its marine portfolio, including our frequency converter-family that holds eight marine approvals.
Visitors will also be introduced to a variety of sensors, such as our cylinder pressure sensor that reduces fuel consumption and increases engine life. Find Danfoss in Hall B1 in the Danish pavillion.

The more compact D-frame construction design of the VLT® Frequency converter is now fully available in the 90 to 250 KW output range. VLT® frequency converters are available in protection classes up to IP 66, making the products ideal for the refurbishment of older vessels. Danfoss VLT® frequency converters for marine applications possibly hold the highest number of class certificates on the market today, and are certified by a total of eight authorities within the maritime and off-shore area, including DNV RINA, Lloyds, CCI and others. The certificates contain information about products and manufacturers found to comply with international standards, regulations and the class rules. This gives the customer the best possible choices when selecting drives for their application.

Depending on the output range, the new compact frame size can be up to 68 percent smaller than the former frames. Additional options are available for these devices on the power input side, from fuses and load circuit breakers to electric contactors. These devices save a large amount of cabinet space. The greatest savings are achieved by the 250 KW VLT® frequency converters. They require only 0.14 m³ compared to the 0.450 m³ formerly needed. Danfoss converters remain among the smallest products in their performance classes and are available in a wide power range designed for all applications, marine and other.

The VLT frequency converters have a vast number of functions developed to meet the diverse needs of all kinds of applications: It is the perfect match for pumps, fans and compressors e.g. in vessels that are fitted with increasingly sophisticated solutions. The power range goes from 1.1 to 1400 kW with voltage ranges 200, 380 – 480/500 V, 525 – 600 V and 690 V. The product is available up to protection class IP66, depending on the version.

An example for a ship, that is equipped with frequency converters from Danfoss (water/fuel pumps, ventilation) can be seen here: http://www.youtube.com/watch?v=aoZTPjAkTek&feature=relmfu

The new high quality pressure sensor allows 2-stroke and 4-stroke engines to operate with a higher output than is the case today. Owners benefit from reduced fuel consumption, lower maintenance costs as well as longer operating life. The MBS 1800 pressure sensor is available in two versions: Integrated: Sensor and amplifier in one housing; In-line: Sensor and chare amplifier firmly but flexibly connected by a high performance cable. The sensor offers a variety of significant benefits: Pressure ranges up to 250 bar, overload pressure up to 300 bar, temperature range up to 350° C, response frequency 20 kHz, natural frequency > 90 kHz. The sensor is designed for 20.000 operating hours in severe conditions. The new MBS 1800 cylinder pressure offers the possibility to register what happens in the combustion chamber while the engine is running. Knowing exactly what happens inside the cylinder provides the possibility to reduce emissions and reduce fuel consumption, as well as reduce maintenance costs. MBS 1800 is one of several quality sensor solutions for engine control offered by Danfoss.