First Antenna Vendor Approved TSBc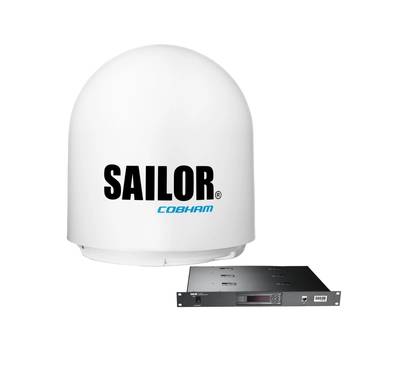 Cobham SATCOM's SAILOR VSAT antennas have been approved for operation on the existing Ku-band as well as the forthcoming THOR 7 Ka-band satellite from Telenor Satellite Broadcasting (TSBc). THOR 7, TSBc's latest satellite is expected to be launched in Q4, 2014 and is equipped with a Ka-band HTS payload. The SAILOR 800 VSAT and SAILOR 900 VSAT have been approved to support Ku-band services on the existing THOR fleet. Additionally, SAILOR 900 VSAT will be compatible with THOR 7.

Covering the 1°West region, THOR 7's Ka-band capacity is strategically positioned over the main shipping routes in Europe and major oil and gas exploration and production areas including the North Sea. The THOR 7 Ka-band HTS payload offers 6-9 Gbps throughput with up to 25 simultaneously active spot beams. Services will offer reliable speeds in the tens of Mbps downlink, even from small antennas. Uplink speeds will be anywhere from 2Mbps to 6Mbps depending on antenna size. Service reliability is key, with TSBc implementing a package of solutions to mitigate rain fade on Ka-band, including a new uplink site in Norway to provide antenna site diversity.

"THOR 7's Ka-band HTS payload has been specifically designed for the mobility VSAT market, offering highly concentrated and high powered coverage over our main market area, including the North Sea, Mediterranean and the Baltic Sea," comments Julian Crudge, Divisional Director, Datacomms, Telenor Satellite Broadcasting. "The Ka-band HTS payload adds vital growth capacity for our long standing maritime and energy customers and SAILOR antennas will be ready for the start of THOR 7 Ka-band service delivery."

Cobham SATCOM's SAILOR 800 VSAT and SAILOR 900 VSAT antennas introduce a new approach to maritime VSAT with uniquely simple procurement and installation in addition to top of the line RF performance. After ordering a complete system with a single part number, SAILOR VSAT antennas leave the factory fully tested and configured, with all RF equipment installed, which simplifies logistics for the service provider and reduces the time needed on board for installation.

"Approval of Cobham SATCOM's Maritime VSAT antennas for THOR 7 strengthens the longstanding co-operation we have with Telenor and is testament to the standardisation approach we have for SAILOR antennas," adds Casper Jensen, VP Maritime Business, Cobham SATCOM. "Our maritime users will be among the first to benefit from the power of HTS with innovative, reliable Ka-, Ku- and Ka/Ku-band antennas from both SAILOR and Sea Tel already prepared for the next generation of maritime VSAT services."