Lloyd's Approves Hyundai LNG Carrier Training Facility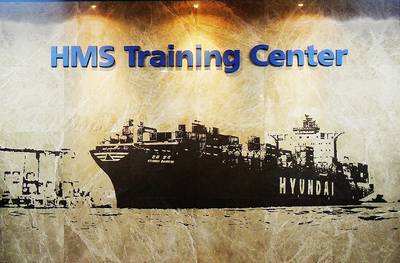 Hyundai Merchant Marine subsidiary has been granted Approved Training Provider status for their facilities and LNG carrier training courses to SIGTTO Training Standards.

Lloyd's Register has awarded Approved Training Provider (ATP) Certification to Hae Young Maritime Services Co. Ltd. (HMS), a subsidiary of Hyundai Merchant Marine Co. Ltd (HMM), one of Korea's largest shipping companies.

The HMS Training Center at Busan, Korea trains seafarers under The Society of International Gas Tanker and Terminal Operators (SIGTTO) training standards. It is equipped with the newest sophisticated simulation training facilities identical to LNG carrier cargo handling systems and steam turbine plant. The specialised training is led by highly experienced qualified trainers with LNG carrier onboard management experience.

Taeg Gyu Lee, President of HMS (also Managing Director of HMM), was presented with the ATP Certificate and Plaque at HMS's office in Busan, by Lloyd's Register's Chief Representative in Korea, Soo-Young Lee.

Mr T.G. Lee said, "Certification to the LR ATP Scheme is a milestone for our company. Having in place an effective and efficient LNG carrier training system meeting the requirements of SIGTTO standards for the operation of our fleet brings real added benefits to the company and it allows us to be proactive in satisfying upcoming regulations, customer requirements and society's expectations. We believe our HMS Training Center will contribute to our global competitiveness in the training and resourcing of LNG carrier specialists."

HMM took delivery of its first LNG carrier S/S Hyundai Utopia from Hyundai Heavy Industries (HHI), in Ulsan, Korea in 1994 and entered the LNG carriage business. Lloyd's Register's Marine Consulting arm was recently contracted to provide a Longevity Study to develop an approach for a life extension regime of the ship, read more here. The company has substantial LNG carrier expertise with experienced and qualified on-shore staff and seafarers – and now manages eight LNG carriers for Korean owners, and a 150,000m3 membrane LNG carrier for a Greek owner.