Design of Aquarius Solar Power Array Starts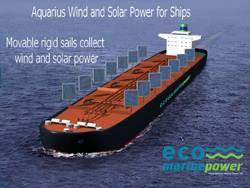 Another step forward in the development of the Aquarius System was made recently when workbegun on the detailed design of the wind and solar sail panel. This panel or rigid sail will beused to harness wind & solar energy which will then be used to help power a ship thereby reducing fuel consumption and the emissions.
The rigid sails are being developed by Eco Marine Power in co-operation with a number of development partners. The rigid sails will form part of an array which will allow ships to tapinto renewable energy at sea, at anchor or even when a ship is in harbour. Each sail panel will be positioned by a computer control system being developed by KEI System Pty Ltd of Osaka, Japan, and the sails can be lowered and stored when not it use. When wind conditions are not favorable they can also be positioned to offer little wind resistance and yet still collect solar energy. Recent advances in solar module technology mean that it is now feasible to use a combined rigid sail & solar energy collection device and Eco Marine Power is at the forefront of developing this technology. Using solar modules mounted on a rigid but movable sail panel offers many advantages over simply mounting solar panels on the deck of ship and Eco Marine Power believes the Aquarius System will also offer an attractive return on investment (ROI) for shipping lines.
The scalability of the Aquarius System means that it can be used on a variety of ships without needing to be re-designed. This makes it ideally suited for shipping lines as it can be used on a variety of ship types and sizes. The Aquarius System could also be fitted to naval, coast guard and fishery protection vessels. The Aquarius System is already gaining international attention and was a finalist in thisyear's Sustainable Shipping Awards. The system looks set to make an impact on world shipping in he years ahead and will help reduce harmful gas emissions on a global scale.