Mercy Ship Arrives in Guinea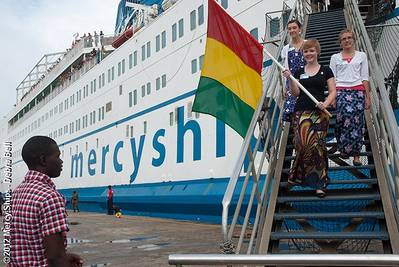 The Port of Conakry in Guinea welcomes the 'Africa Mercy' – the world's largest private charitable hospital ship.

Previous assignments to the West African nation took place in 1992 and 1999. For the next ten months the state-of-the-art hospital ship, with six operating theatres, will provide free specialized surgeries and training for health care workers in Guinea.

In response to an invitation from the President of Guinea, the Mercy Ships program strategy is to partner with the Ministry of Health and Public Hygiene and other organizations to improve the country's health care delivery system.

A one-day screening in the Conakry area will be held on September 3rd to select patients with treatable conditions. In advance of the ship's arrival, Mercy Ships partnered with local NGOs and the Ministry of Health and Public Hygiene to screen more than 805 patients in the more remote portions of the country to reach the least served.

Guinea is one of the least developed countries in the world, ranking 178 out of 187 on the UN Human Development Index. According to the World Health Organization, life expectancy is only 54.1 years, and the under-five mortality rate is 142 out of 1000, far higher than the United Nations Millenium Development Goal of 60 out of 1000.

At the ship's arrival ceremony, Prime Minister Mohamed Said Fofana spoke emphatically that the 10 month visit of Mercy Ships in Guinea is deeply welcome. "As a country, we are grateful to have the Africa Mercy here to provide essential medical care and to also help with training our own health care professionals. On behalf of every Guinean, we thank you for bringing hope and healing to our nation. In this period of time, the medical care provided by Mercy Ships will transform many lives," he said.

To learn more click here.