USS Ohio Arrives in Subic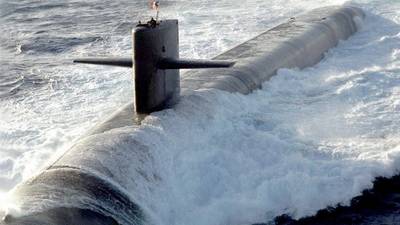 The United States' Ohio-class guided-missile submarine USS Ohio (SSGN-726) arrived in Subic Bay on Tuesday, March 22, as part of its deployment to the Western Pacific.
Ohio is the second submarine to dock in Subic, a former American naval base, and the sixth US warship to visit the country this month.
With its 150 crew and officers, Ohio will conduct missions and showcase the latest capabilities of the US Navy's submarine fleet.
Measuring 560 feet long and displacing more than 18,000 tons of water when submerged, Ohio is one of the largest and most versatile submarines in the world.
"Our presence in the region provides a stabilizing force and through engagements with our partners, such as this port visit to Subic Bay, we aid in maintaining that stability," said Capt. Michael Lewis, Ohio's commanding officer.
The US submarine arrived at the former US naval base a week after a
Chinese coast guard
vessel rammed the boat of Filipinos fishing in Bajo de Masinloc, their traditional fishing ground which is 124 nautical miles from Zambales. Beijing claimed that the fishermen retaliated with fire bombs.
Lewis said the mission of the USS Ohio is to "support the 7th Fleet commander in a multitude of operations and the crew of 165 came to the region fully ready to accomplish any and all missions."
Commissioned in 1981 as SSBN-726, Ohio was once the lead boat of the Ohio-class ballistic missile submarine.
From 2002 to 2005, Ohio underwent an extensive refuel and overhaul where it was converted from a ballistic missile submarine into a guided missile submarine.