Asahi/America Launches New Website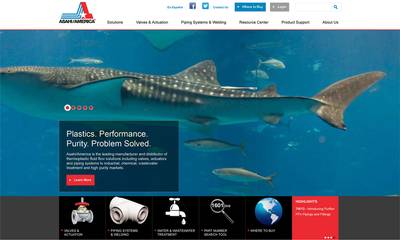 Updated Website Features Hundreds of Corrosion Resistant Thermoplastic Valves, Actuators and Piping Systems.


Asahi/America, Inc., a leader in thermoplastic fluid flow technologies, has redesigned their Internet website, www.asahi-america.com. The new site offers engineers, designers, installers and plant managers a wealth of technical and product information encompassing the entire Asahi/America family of products including valves, actuators, piping systems and high purity products. The new layout, additional technical documentation, expanded product features and new solutions section make the site a valuable resource for those in the chemical, industrial and institutional sectors.


In the expanded Resource Center, users can access an expanded virtual product catalog library, locate part numbers for all of Asahi/America's products using the online Part Number Search Tool, and access 3D and 2D drawings of Asahi's valves and actuators.


Asahi/America's full product offerings are displayed online. Each product is pictured along with resources such as specifications and datasheets. Visitors are now able to chat live online with a member of Asahi's customer service team during regular business hours using the new online chat feature.


Other website features include sections specifically designed for distributors, engineers and contractors, welding equipment information, Asahi's trade show calendar, a chemical resistance section and lots more.


To explore the upgraded, newly designed website, visit www.asahi-america.com.