Totus Energy Awarded Ex Assembly Deal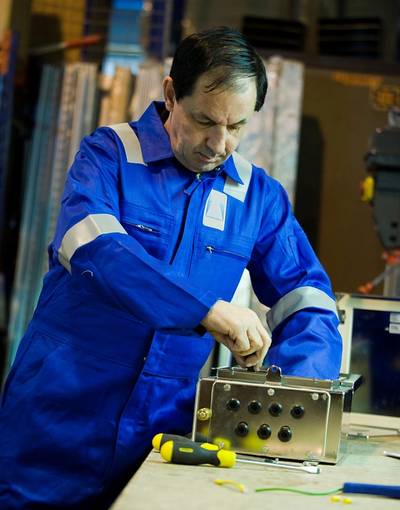 Dron & Dickson's Abu-Dhabi based subsidiary, Totus Energy, has signed a deal with Weidmuller for the provision of regional Ex equipment manufacture and distribution.

Totus Energy, an electrical and instrumentation contractor, specialising in the provision of project services for the oil and gas and marine and industrial sectors, has been awarded a third party licence from Weidmuller to assemble and supply Hazardous Area junction boxes for the Abu Dhabi market.

The new function adds to Totus Energy's capabilities in the local Ex market and will enable the company to reduce its clients' downtime both on- and offshore by supplying the junction boxes into the market quickly.

Weidmuller awarded the contract following a stringent review of Totus Energy's ISO and safety processes, completed in an audit by global inspection company DEKRA.

Christian Kleinjung, managing director of Weidmuller Middle East, said: "The new partnership will open a new sales channel for Weidmueller, as Totus Energy will be mainly focusing on repair and maintenance both on and offshore."

Earlier this year, Totus Energy moved into new premises to allow for increased staff numbers as well as new capabilities. Previously an E&I focussed company, the expansion has allowed Totus Energy to incorporate Ex electrical inspections and an Ex materials division to the company.

Dron & Dickson employs more than 300 people both off and onshore and has a network of bases in Aberdeen, Hull, Lowestoft, Stirling, Brazil, Dubai and Abu Dhabi. The company provides a wide range of services, which include the design, specification, supply, installation, testing, commissioning, maintenance and repair of electrical equipment in hazardous areas both on and offshore.

In addition to targeting growth in the oil and gas sector, Dron & Dickson operates in the renewables and decommissioning markets. It also works in a variety of other sectors of industry ranging from pharmaceuticals to distilleries. The company offers a full range of life-cycle solutions and holds numerous supply agreements providing competitive contract prices, matched inventory, spend analysis, KPI reporting and technical support.