ROV Ocean Clean-up Assistance from Smart Tether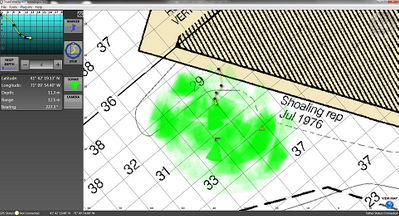 KCF's Smart Tether software played integral part in helping the Rozalia Project goal to clean oceans and other waterways during their 'Trash Tour 2012'.

The Rozalia Project announce the completion of their Trash Tour 2012 and say that Smart Tether played a large role in the tour's success. According to Rozalia Project Co-Founder and Executive Director, Rachael Miller, KCF's Smart Tether assisted Rozalia Project interns and volunteers in their hunt for trash in many ways.
The Rozalia Project is a 501(c)(3) nonprofit organization whose mission is to find and recover marine debris from the surface to the sea floor through action, technology, outreach and research. The organization operates from the record-breaking circumnavigator now research-vessel, American Promise along the New England coast and in the waterways of Vermont.

Miller said that often Rozalia ROV (remotely operated vehicle) pilots were looking for trash in areas with poor visibility and that Smart Tether let them know where they were going and helped keep them out of trouble. Additionally, Smart Tether allowed the Rozalia Project to make marine debris maps showing where and how much area was searched and whether debris was distributed evenly, or was in pockets.

In 2013, the Rozalia Project is looking to continue with the Urban Waters program, add a guest scientist program on board their ship, the American Promise, and, Mission Atlantic, a daily, interactive web-based program for summer camps, sailing programs, tall ships, and more.
KCF Technologies President Jeremy Frank added, "I am pleased that Smart Tether is an integral part in helping the Rozalia Project to accomplish their mission of cleaning our oceans. This is another good example of how using KCF's unique tether based positioning technology, to locate, in real time, the position of remotely operated submersibles like the one Rozalia uses to locate, and remove, treacherous underwater debris, can work."