'Rena' Owners Prefer to Leave Wreck on Astrolabe Reef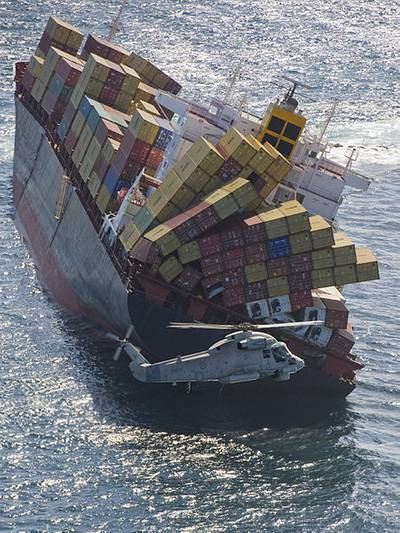 Heavy fuel oil on board the wrecked container ship is expected to leach out over time, but the ship's owners and insurers would prefer to leave it where it is.
No decision had been made on leaving Rena on the reef, but draft assessments have been distributed for stakeholder and regional council review. Meanwhile the Maritime New Zealand order for full wreck removal remains in place, reports the Bay of Plenty Times.

Matt Casey QC, and Keith Frentz from Beca AMEC, recently presented a report to the Tauranga City council on behalf of Daina Shipping Company and insurer The Swedish Club.
About one to two tonnes of oil is believed to be on board Rena's sunken stern, clinging to containers, pipes, cargo, plus hydraulic oil. There were about 1646 tonnes of heavy fuel oil on Rena when it grounded. Salvors using the Awanuia bunker barge removed about 1425 tonnes and about 230 tonnes were lost to sea or collected from beaches. This did not include the 21 tonnes of diesel oil on the ship at the time. Of this, 17 tonnes were removed and 4 tonnes were lost at sea.
Mr Casey indicated that full wreck removal was still possible, but it would not return the reef to its pre-Rena state.
Source: Bay of Plenty Times