Navy Astronaut, Aquanaut, Scott Carpenter Laid to Rest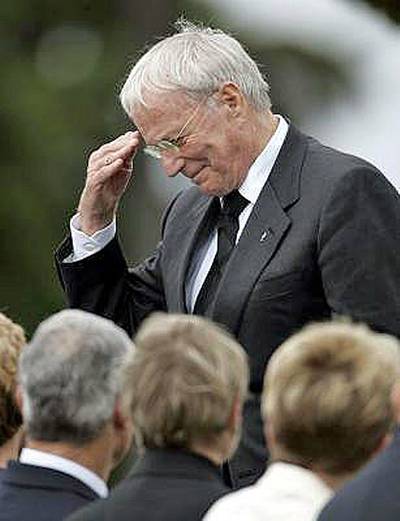 The funeral of the United States' fourth astronaut to fly in space, and the second to orbit the Earth, U.S. Navy Cmdr. Malcolm Scott Carpenter (retired), was held at St. John's Episcopal Church in Boulder, Colo., with full military honors.

Carpenter, 88, died Oct. 10 at the Denver Hospice following complications from a stroke.
 He was, a dynamic pioneer of modern exploration, and earned the unique distinction of being the first human to penetrate both inner and outer space, thereby acquiring the dual titles of astronaut and aquanaut from NASA.

He was commissioned in the U.S. Navy in 1949 and designated a naval aviator in April 1951. During the Korean War he served with patrol Squadron Six, attended the Navy Test Pilot School at Patuxent River, Md., in 1954 and was subsequently assigned to the Electronics Test Division of the Naval Air Test Center at Patuxent. From 1957 to 1959 he attended the Navy General Line School and the Navy Air Intelligence School.

One of the last two surviving astronauts of America's original space program, Project Mercury, and the last surviving original member of Mercury 7, Carpenter was selected for the program April 9, 1959. He underwent intensive training with the National Aeronautics and Space Administration (NASA), specializing in communication and navigation. He served as backup pilot for John Glenn during the preparation for America's first manned orbital space flight in February 1962.


Carpenter flew the second American manned orbital flight May 24, 1962. He piloted his Aurora 7 spacecraft through three revolutions of the earth, reaching a maximum altitude of 164 miles. The spacecraft landed in the Atlantic Ocean about 1,000 miles southeast of Cape Canaveral after 4 hours and 54 minutes of flight

On leave of absence from NASA, Carpenter participated in the Navy's Man-in the-Sea Project as an aquanaut in the SeaLab II program off the coast of La Jolla, Calif., in the summer of 1965. During the 45-day experiment, Carpenter spent 30 days living and working on the ocean floor. He was team leader for two of the three 10-man teams of Navy and civilian divers who conducted deep-sea diving activities in a seafloor habitat at a depth of 205 feet.