Cruise Ship Hulk Set Adrift in N. Atlantic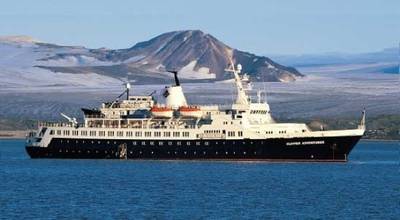 Cruise ship 'Lyubov Orlova' broke free while on tow from St. John's NL, Canada for scrap in the Dominican Republic.
In bad weather on 24, January the towline parted, and the Canadian authority Transport Canada ordered the tugboat Charlene Hunt to return to port a few days later.
Fearing possible collision of the drifting vessel with oil and gas installations off eastern Canada, the Lyubov Orlova was secured by the Atlantic Hawk anchor handler on the 31, January and was towed clear, however, a few days later Transport Canada decided the tow, now in international waters, should be releasd. Their view was that the ship was not expected to re-enter Canadian waters and that the owners of the ship remained responsible for its movements.
The Lyubov Orlova was a popular Arctic cruise ship before Canadian authorities seized it in St. John's in September 2010 as part of a lawsuit by Cruise North Expeditions against its Russian owners. The company was trying to recoup cash for the cost of a trip it cancelled due to technical problems. The present owners acquired the ship with the intention to deliver it for scrap and are now insolvent.
The latest report of the ship's position, fitted with a tracking transponder before being released from tow, was approximately 250 nautical miles east of St. John's, NL (approximately 50 nautical miles outside Canada's territorial waters) and drifting in a northeasterly direction.
Source: The Canadian Press/Wikipedia