RPG Pirate Attackers Sent to Court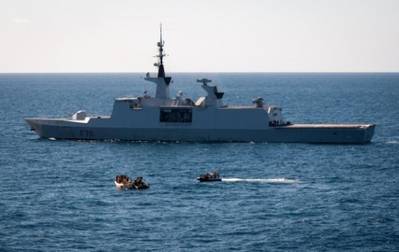 EU Naval Force transfers 12 suspect pirates to Mauritius for prosecution after attack on merchant vessel off Somalia.
At the time of the attack on 5th January, 2013, the master of the merchant vessel sent out a distress call reporting that he and his crew were coming under attack from a fast moving boat, armed with rocket propelled grenades (RPG).
Sailors from the EU Naval Force French Frigate Surcouf were later able to arrest the men suspected of carrying out this attack and brought them on board the warship for full enquiries to be made. When suspect pirates are apprehended at sea, EU Naval Force always seeks, where possible, a legal finish and after engaging with Mauritian authorities, who hold a transfer agreement with the EU, the twelve men were later transferred to Mauritius for prosecution.

Speaking about the successful transfer, the Operation Commander of the EU Naval Force, Rear Admiral Bob Tarrant said 'I welcome the news that the twelve suspect pirates were today transferred to Mauritius for prosecution. Mauritius is a key partner in the fight against piracy in the region and today we sent a clear message to pirates that EU Naval Force and Mauritius are determined and committed to achieve legal prosecution for those accused of attacking ships at sea'.