Recent Florida Boat Show Logs Attendance Up 28%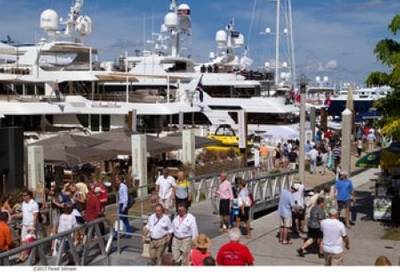 Five days of ocean breezes and sunshine set a spirited tone over the recent 54th annual Fort Lauderdale International Boat Show® report the organizers, with gate attendance for the entire show up 28 percent from the prior year and exhibit space the largest it has ever been, with returning exhibitors expanding their show presence over 2012.
"The boat show is a barometer of the local and national economy, and this year we saw a strong increase in sales, an increase in attendees, and 10-to-15 percent increase in food and beverage consumption over the past few years," said Convention Center General Manager Mark Gatley. "Exhibitors had very positive feedback to share about their selling experience, as well as the new food and beverage options at the Sailfish Pavilion, and they were telling us that they didn't want the show to end."

Italy was one of more than 20 countries represented at this year's show. The largest in-water boat show in the world, the Fort Lauderdale International Boat Show attracts an international audience of more than 100,000 marine professionals and enthusiasts, spanning more than 3 million square feet of space over six locations.

The Fort Lauderdale International Boat Show is owned and sponsored by the Marine Industries Association of South Florida and managed and produced by Show Management.