540 Sundancer to Make its Austrailian Debut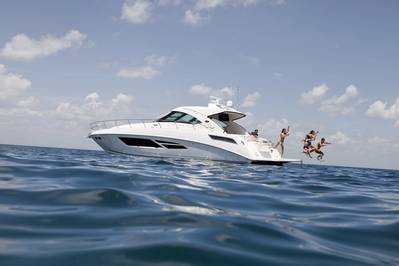 Sea Ray's $1.5 million 540 Sundancer will hit Australian shores for the first time this year at the 25th annual Sanctuary Cove International Boat Show (SCIBS).

Imported by Queensland Marine Centre (QMC), the cruiser is set to turn heads when it makes its debut at this year's Boat Show. QMC deal principal Andrew Bennett said the team was eagerly awaiting the Australian launch of the 54-foot yacht. "It's fantastic to get a boat of this size and grandeur into Australia and to launch it at one of the country's biggest boat shows," he said. "It's only the third of its kind built in the world and has only just been launched in America, so we're excited to be bringing it to SCIBS this year.
The vessel comes appointed with an impressive master bedroom, forward stateroom, two bathrooms and entertainment centre, all adorned with sleek timber finishes. With the largest cockpit in its class, the 540 Sundancer is hailed as an entertainer's dream - complete with air conditioning, retractable sunroof and ample seating for a sizeable crew. A stylish hull complete with a retractable sun shade, swim platform and ladder are further enticement for the avid entertainer. Creature comforts include a Sony stereo complete with an iPod dock, coffeemaker, ice maker, and 32 inch flatscreen LCD television.

The vessel includes a hydraulic platform allowing jet-ski access.

Technological innovations include 'Zeus Drive', which has a skyhook system holding the boat in place via GPS while the engine is still running.

Mr Bennett said he expected the yacht would be popular in the Australian market and he looked forward to hearing feedback from SCIBS visitors. "The Australians are going to love the layout and design of this boat because it is perfect for our climate and waterways," he said. "The quality and the style of the boat speaks for itself and it's sure to attract a lot of attention. "It's top of the line when it comes to this size of boat, so it's great to be coming to the Show with such a great product."

Sanctuary Cove is hailed as an old stomping ground for the Queensland Marine Centre which began as Sea Ray Queensland in 1996, selling the early lines of Sea Ray Boats in a Sanctuary Cove showroom.

Seventeen years on the team has secured an award winning and industry leading showroom in Southport and pride themselves on being one of the top international Sea Ray dealers.

The 2013 Boat Show will showcase a raft of international boating brands, products and technologies on display alongside the superb backdrop of the award-winning Sanctuary Cove marina and The Marine Village. Offering something for the whole family, SCIBS will also feature a full program of live entertainment, fashion parades, cooking demonstrations, seminars and safety talks as well as a fantastic kids marine zone and Women on Water program throughout the four-day event.